News |
Thursday, 16th May 2019
Rugby 7s team to compete in the UK-China University Sports Week
Ten students jet off to China to represent the University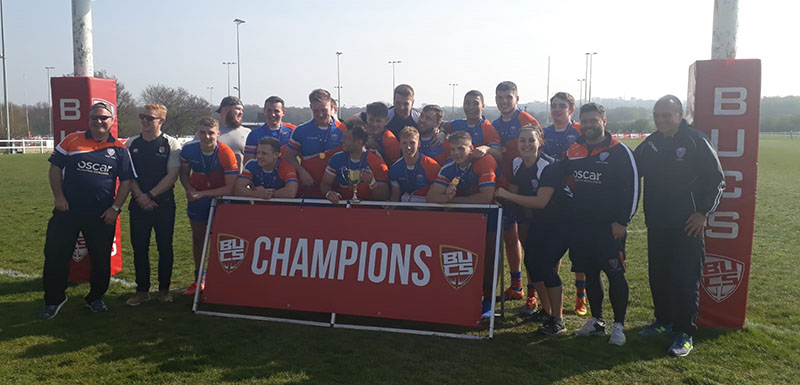 Manchester Metropolitan's rugby union sevens team will be representing the UK in the annual UK-China University Sports Week (19 – 25 May), which is taking place in the city of Zhuhai, in the Guangdong province on the south coast.
The Manchester Met team, which was recently crowned British Universities and Colleges Sport (BUCS) sevens champions, is one of three UK-based men's and women's squads selected to take part at the special sport competition and cultural exchange.
The UK teams will play a series of matches against select Chinese university teams, but will also share their rugby knowledge through bespoke training sessions. During the once-in-a-lifetime trip, students will have a chance to immerse themselves in Chinese culture, as well as visit Hong Kong.
Ben Pearson, Sports Management student, who is currently on placement with MMU Sport and plays for the rugby union sevens team, tells us more:
The rugby union sevens team enjoy being part of a sports club and represent their University, and are looking forward to this unique experience:
Dovydas Smolenskas, second-year Sports Management student
"When making the decision of where to study, I researched the performance of several rugby union university teams and reached out to a few coaches to find out more too. I was very impressed with the support given to students and the sports facilities on offer at Manchester Met, and joined the rugby union team as soon as I started.
"I have not been to China before so I am looking forward to sharing the experience with my teammates and spending time with the Chinese students too – they will be taking us out for the day to show us around their city and help us learn more about their culture."
William Curtis, final-year Sport Science and Human Physiology student
"My course mate encouraged me to go to the rugby union try-outs in my first year, and a few weeks later I was selected to play in the Varsity match against University of Manchester in front of 5,000 students – it was our first win in several years and such a fantastic experience to be part of.
Having come from a close-knit rugby college, it took me a while to settle into university life but being part of the rugby union team really helped me to build close friendships and was a great way to take a break and unwind. I would definitely advise all students to get involved in something at university that you are interested in, outside of your course – the great thing about Manchester Met is that there are lots of opportunities – from sports clubs and societies to volunteering and much more."
Will Jones, first-year Mechanical Engineering student
"I have loved being part of the Rugby Union team, especially getting the opportunity to meet and become friends with so many other students – both at Manchester Met and from universities across the country when competing in BUCS.
"Since joining the team in my foundation year, I have moved from the third to the first team and I feel privileged to be chosen to represent the University in China. I'm excited to experience the Chinese culture, taste the food and am interested to see what university life is like there too."
Thanks for taking the time to speak with us, and we hope you have a fantastic time.
You can follow the team's process with player Ben Pearson, who will be updating their trip on our social media channels – you can find the links at the bottom of the page.