News |
Monday, 5th August 2019
Shape your career with TALENTmatch
Ancient History graduate shares his intern experience of working with Special Collections
TALENTmatch is a tailored intern recruitment scheme that matches students and graduates with employers across Greater Manchester, as well as vacancies across the University too. The scheme provides a variety of options including course-specific part-time work, graduate positions and summer internships, all of which add valuable experience to your CV.
Class of 2018 Ancient History graduate Harry Pickard was pursuing a career in the museum sector, so was thrilled when TALENTmatch got in touch with an opportunity in Manchester Met's Special Collections team.
The Student Communications team caught up with Harry to find out more about his internship:
"My interest in museums grew stronger throughout my degree, so in my final year I started volunteering at the Manchester Museum to get work experience and see if I would enjoy a career in the sector.
"Shortly after I graduated, I got an email from TALENTmatch about an intern position in Special Collections. If I am honest, I had not heard of the recruitment scheme before, as I had only used the Careers Service once when I attended a CV workshop. Likewise, I knew that we had a Special Collections museum here on campus but very rarely would I explore the collections or use it as an academic resource.
"My internship has mainly focused on cataloguing work from past and present students in the textile section, but I have also had the opportunity to work with renowned graphic designer, and Manchester Met graduate, Malcolm Garrett, on his Vivienne Westwood collection as well. He was such an inspiration to work with and really interesting too – his work covers everything from the Spice Girls and comic books, to album covers and tour posters for Duran Duran and Buzzcocks.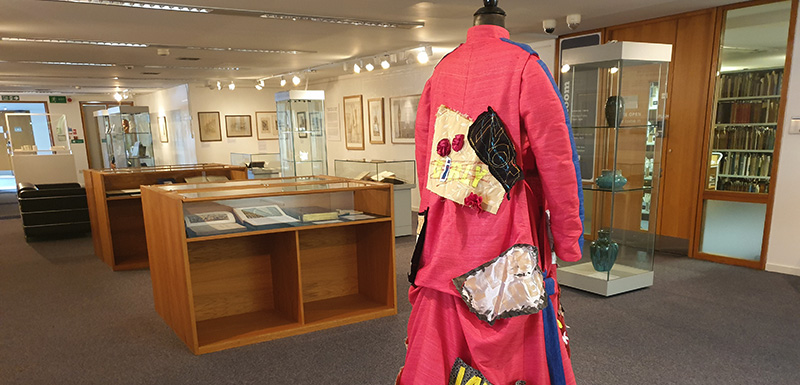 "The city of Manchester was one of my main reasons for joining the University as it's not too far away from home (Barnsley, South Yorkshire) and it is packed full of culture. And it does not feel like a 'student city' at all – students are embedded into the fabric of the city. Other than Special Collections, of course, my favourite places to visit Manchester are the People's History Museum, the Manchester International Festival and HOME.
"It is always a bit scary starting a new job, but I have had such a good time working with the Special Collections team and they really valued my input – I didn't really feel like an intern. The internship has definitely helped me to feel more confident with my own abilities and has even inspired me to continue my studies. In September, I have a place on the Museums and Galleries masters course at the University of Manchester – which is one of the oldest courses of this type in the country. And, I don't have to leave Oxford Road!"
Thank you for your time Harry, and best of luck with your masters.
The Special Collections Gallery is on the 3rd floor of the All Saints Library and is open Monday and Friday (10:00am – 4:00pm) – you can find out more on their website.
Please visit the TALENTmatch website for the latest roles available and details of how to apply.