News |
Thursday, 8th August 2019
Manchester Pride is almost here!
Recent graduate, Connor Mcgill, helps design University's Pride Parade t-shirt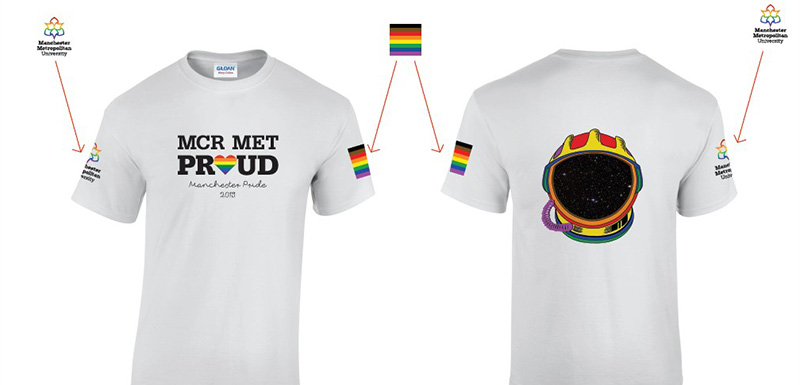 Manchester Metropolitan is proud to be taking part in the Manchester Pride Parade for the seventh year on Saturday 24 August. The parade is a fantastic opportunity for us to celebrate diversity and equality in our great city.
The Internal Communications team caught up with Connor Mcgill, Graphic Design graduate and Pride Parade committee member, who has redesigned this year's t-shirts to find out more:
"My final university project was self-directed and I chose to propose a redesign of the iconic rainbow flag, which is commonly used by the LGBTQ+ community. In seeing my project, one of my tutors suggested that I could get involved with the Manchester Metropolitan's Pride Parade entry. I was put in contact with the Pride committee, who asked me to help design the artwork for the University's t-shirts. I was the only student representative on the team and it was great to have my input welcomed by the other members, and it has been a brilliant experience meeting so many inspiring people from all over the University.
"I have been to multiple Pride Parade's before, but this year will be really special to see my work on show. I came out when I was 15 years old, and I know how much someone from the LBGTQ+ community can struggle to accept themselves. So, Pride for me, is an important way of celebrating the people who have worked so hard to feel at ease with themselves, but also a safe place for people from all walks of life to celebrate positivity and love.
"This year will also be memorable because Manchester Pride and Manchester Met have adopted the Philadelphia Pride flag. This flag was first introduced in Philadelphia in 2017, to include black and brown stipes as an inclusionary way to highlight BAME (Black, Asian and minority ethnic) LGBTQ+ members within the community – so there is no better time to join the Pride Parade to embrace the equality and diversity.
"I was so excited to hear this year's theme is 'Deep Space Pride: A Future World of Equality'. As soon as I heard about the theme, I had a million ideas for the t-shirt designs, and my friends and I are going all out with our space outfits!"
There is still time to join the waiting list to be part of the Manchester Met Pride Parade entry and bag a t-shirt designed by Connor.
If you would rather bring your friends and family along to watch the parade around Manchester, here is the route map: