News |
Monday, 14th October 2019
Five minutes with… Alice Schofield, Academic and Study Skills Tutor
"The passion and determination of our students at the University makes it all worthwhile"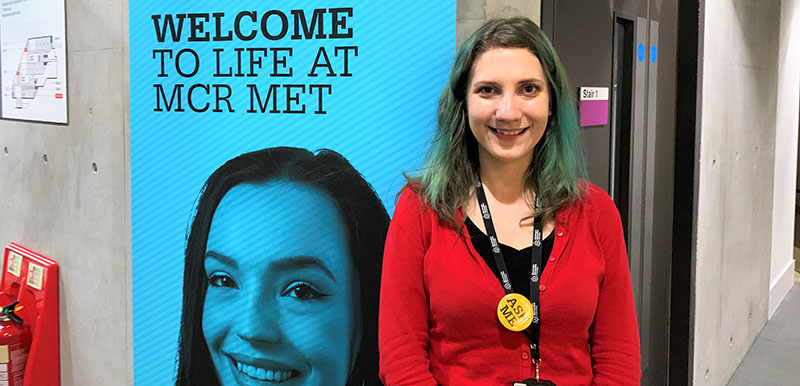 Supporting your academic journey at Manchester Metropolitan is one our top priorities and there is a wide-range of support available to you – from our recently refreshed Student Hubs to our fantastic Counselling, Mental Health and Wellbeing Service.
Academic and Study Skills Tutors (formerly known as Student Support Officers) are here to help you every step of the way through your time at the University, offering a wealth of advice on academic writing and technology to support your learning.
No query is too small and there is no such thing as a silly question, and the team can meet you face-to-face or answer your questions via Skype, telephone or email.
Alice Schofield, Academic and Study Skills Tutor, tells us more about how the team can support you at Manchester Metropolitan:
What does your typical day look like?
"My typical day consists of supporting our students with their study skills – including academic writing, time management and talking through feedback on their work.
"I also run a series of drop-in sessions and themed workshops around presentations (helping you to gain the confidence to present well and under timed conditions) and report writing, which are all concise 50 minute walkthroughs."
What is your favourite thing about the University?
"My favourite thing is meeting so many students on a daily basis and teaching workshops, which is something I really enjoy! The passion and determination of our students at the University makes it all worthwhile, and it is extremely rewarding when we see students who are confident in their work and abilities."
If you have one piece of advice for students, what would it be?
"Plan your time – make sure you know what assignments are due when and plan backwards. This will be really helpful when it comes to your submission deadlines and planning activities outside of your course.
"Another top tip would be to make really good notes and use Lecture Capture – this will make a huge difference when you come to completing assignments and preparing for exams.
What support is available to students?
"The Academic and Study Skills team offer confidential and friendly support around your writing, presentations and feedback – we can also look at samples of your work and offer specialised advice.
"Our Skills Online page is a great starting point for online resources and self-help tools, as well as finding out more detailed information on how to access further support.
"The next round of Study Skills workshops will be taking place in early November, so head over to our workshops page for full details and book your place!
"Your academic progress is important to everyone who works at Manchester Met and we are all here to make sure that you receive the support you need to help you fulfil your potential."
Please visit our Study Success page on Student Life for more information about the University's Support Services.