News |
Friday, 1st November 2019
Celebrate World Vegan Month at Manchester Metropolitan
Lots of exciting opportunities to go meat free throughout November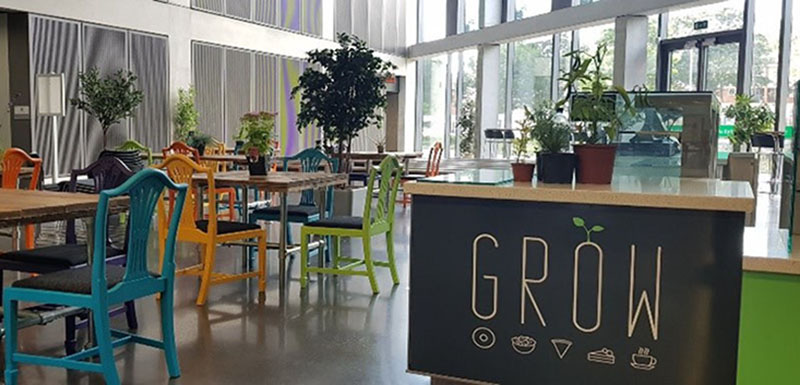 During November, we will be celebrating World Vegan Month and showcasing the variety of ways the vegan-curious can try meat free meals at Manchester Metropolitan.
A great place to start is trying some vegan eats at our new meat free café GROW located in the Business School. GROW is run in collaboration by MetMUnch and the University's Catering team, and the sustainable café is packed with lots of tasty treats to promote healthy eating habits.
Nutritional Sciences student Hannah Morgan developed the café's plant-based menu, and she tell us more about GROW in our student-generated video below:
You can also register to take part in our innovative HealthyU programme, which aims to support staff members and students to live a happier, healthier life by providing useful information around the nutritional benefits of healthy eating.
Haleh Moravej, MetMUnch founder and registered nutritionist, tells us why colleagues should join this new programme:
"Our HealthyU programme initially started in 2015 as a creative collaboration between MetMUnch and MMU Sport, and we are delighted to launch the new programme for the 2019/20 academic year.

"The all new HealthyU will be creative, educational, fun and linked to mental and physical wellness. We will particularly focus on the role of 'social eating' as we will be running the sessions in the GROW café.

"We would like to empower our colleagues of the pivotal role food and nutrition plays in health and wellness – helping staff members to make even more informed choices with the support from our registered nutritionists, MetMUnch students and MMU Sport staff."
You can find out more about HealthyU in our recent article.
Tantalise your taste buds, try something new and go meat free during World Vegan Month at Manchester Metropolitan with GROW and HealthyU.