News |
Tuesday, 19th November 2019
Five minutes with… Avina Cheenibass, Jobs4Students
"We have new and exciting roles going on our recruitment site every single day"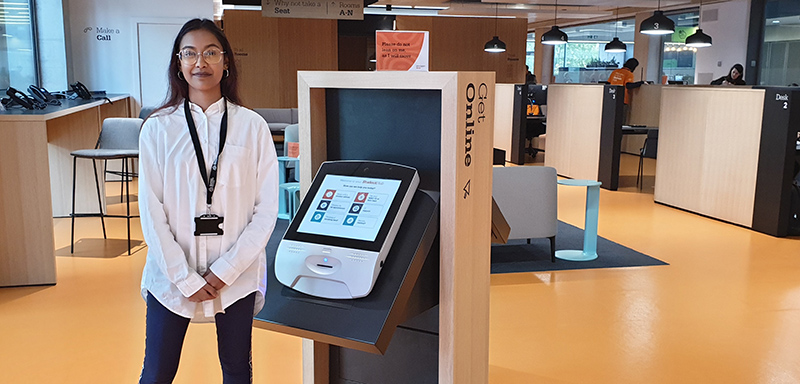 If you want to earn some extra money while studying and help your CV to stand out from the crowd and – our Jobs4Students service could be right up your street.
Jobs4Students has a host of part-time paid opportunities for you to learn new skills and gain valuable experiences to support your future and Avina Cheenibass, Jobs4Students Administrator, tells us more about how you can get involved:
What does a typical day look like in Jobs4Students?
"Jobs4Students supports current students to secure paid, temporary, part-time jobs on campus, and we have new and exciting roles going on our recruitment site every single day.
"We work closely with the Hiring Managers (staff members who are seeking student staff) to set up and promote fantastic opportunities for students to earn some extra money and develop their employability skills as well.
"My team (the Administration team) are also responsible for making sure students are registered to work, providing advice around training requirements and ensuring payments are made on time."
What do you think is the best thing about the University?
"It was great to have lots of opportunities to network at career events throughout my Economics undergraduate course, including meeting employers and hearing about what they looked for in potential candidates. These events were really valuable and inspired me to do my masters in Banking and Finance."
If you could give one piece of advice to students, what would it be?
"Make sure you find the right balance between your studies, work and socialising with friends – all are just as important as each other. I found that the time management workshops are really useful for helping you to prioritise your student life."
How can students view the latest jobs that are on offer?
"We offer a wide-range of temporary roles including, assisting on research projects, sport roles, event ambassadors, IT support, peer mentors and much more.
"There is also a mix of one-off roles that require a specific number of hours per week – so you can easily fit it around your studies and other commitments.
"You can view and apply for our latest vacancies on the Jobs4Students webpage, and you can also attend our drop-in sessions in the Business School Student Hub every Tuesday – Friday (10:30am – 3:30pm) during term time if you have any questions."
How can Jobs4Students roles help to boost student employability?
"As well as more flexibility than you would get with other jobs (including receiving a minimum of £8.21 per hour), the opportunity to work in lots of different roles is a fantastic way to develop your employability skills. Most of our roles are based on campus, so you will get to meet lots of people from across the University and maybe make some new friends out of it too!
What other careers support is available at Manchester Met?
"In today's competitive graduate job market, you will need to be able to demonstrate that you have developed the key skills that employers are looking for and our fantastic Careers Service offers lots of support to set you up for success.
"From helping you to showcase your skills and achievements on your CV, to providing you with opportunities to network with employers, our Careers Service will always support you during your time at the University and after you graduate."
For more information about Jobs4Students and the careers support available at Manchester Met, please visit our Careers Service webpage.