News |
Monday, 25th November 2019
Join us for our annual Carols for Christmas event
Staff members and students welcome on Thursday 5 December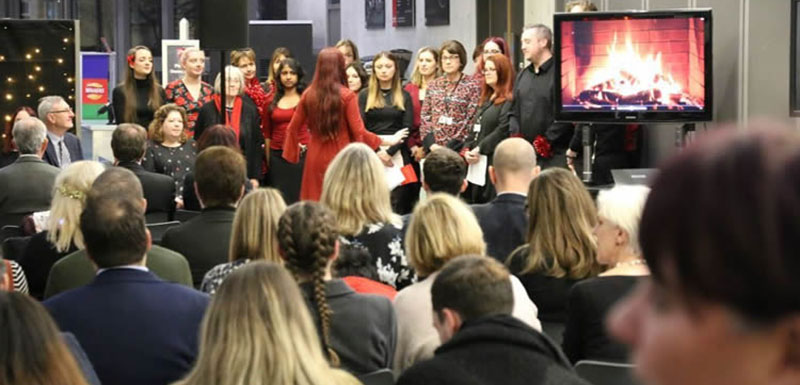 Staff members and students from across the University are invited to come together in the North Atrium of the Business School on Thursday 5 December for our annual Carols for Christmas service.
The service will begin at 4:00pm and colleagues can enjoy mulled wine, non-alcoholic mulled wine, tea, coffee and mince pies as part of a heart-warming celebration of the music and cultural traditions of Christmas.
Led by the Rev Steve James and musicians from Holy Trinity C of E Church, Rusholme, traditional carols will be sung along with seasonal readings and festive music.
Professor Julia Clarke, Pro-Vice Chancellor of Business and Law, said:
"Colleagues are invited to join us at this fantastic event and celebrate the festive season together. This year we are running a Reverse Advent Calendar in support of three local charities and we are encouraging staff and students to donate items to the cause."
The Carols for Christmas event will support Barnabus (a Manchester Homeless Charity), Animals in Distress (a local animal shelter) and the Pankhurst Centre (a women's refuge).
Donations of drinks, clothing, tinned food items, cat and dog food, women's nightwear and basic toiletries are welcome.
The event will also see a performance from the University's Staff Choir.
If you would like to find out more about Carols for Christmas and the charities we are supporting, contact Nadya Suleiman at n.suleiman@mmu.ac.uk.