News |
Tuesday, 10th December 2019
Winter break opening hours
Important campus information over the festive period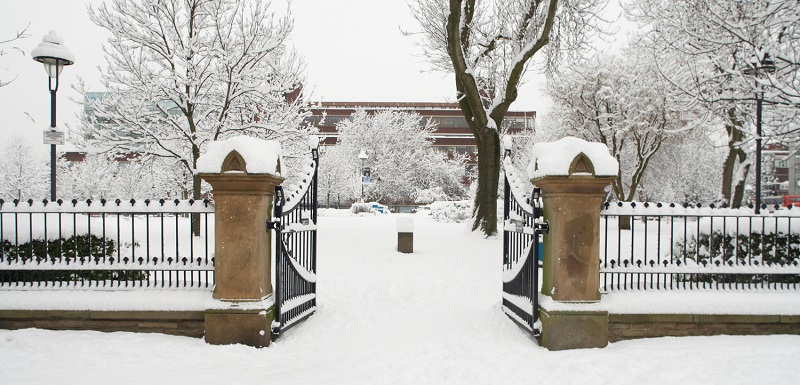 The University will be closed from Tuesday 24 December and will reopen on Thursday 2 January 2020 – this includes our Student Hubs, Counselling, Mental Health and Wellbeing Services, and Careers Service.
Some of the University's services and facilities will be operating reduced hours or closed between Monday 16 December and Sunday 5 January, so it is advisable to check with the relevant department before traveling on to campus.
Our services that will remain open during the festive period include:
Security 
Our Campus Security team are available all year round and are always happy to help if you need support on campus – you can give them a call on 0161 247 2222 or get in touch via the SafeZone App.
Library
The Library will continue to be open 24/7 during the winter break – however, the helpdesk will be closed on Saturday 14 and Saturday 21 December and will close at 7:00pm on Monday 23 December until Thursday 2 January.
IT Helpdesk
If you need any IT support during the winter break, you can contact the out-of-hours IT service – simply call 0161 247 4646, email it.helpline@mmu.ac.uk or speak to the team via LiveChat.
Buildings
View our 'Festive Closure Dates' PDF to view our academic buildings, sports facilities and catering outlets closure dates.
Students' Union
The Union opening hours are:
Saturday 14 – Sunday 15 December: closed
Monday 16 – Thursday 19 December: 9:00am – 6:00pm
Friday 20 December: 9:00am – 4:00pm
Saturday 21 – Tuesday 24 December: closed
Wednesday 25 December: 12:00pm – 7:00pm (the Big Union Christmas)
Thursday 26 December – Wednesday 1 January: closed
Thursday 2 January: 9:30am – 4:00pm
Friday 3 January: 9:30am – 4:00pm
Saturday 4 – Sunday 5 January: closed
Studiosity
Studiosity is an online feedback service that supports our foundation, first-year undergraduate and level 7 apprentice students to adapt to writing at a university-level. The service is available 24/7. 365 days a year – including Christmas Day, Boxing Day and New Years Day.
Counselling, Mental Health and Wellbeing Services
Counselling, Mental Health and Wellbeing Services will close for the University winter break at 4:30pm on Monday 23 December and reopen at 8:45am on Thursday 2 January. If you need support, take a look at our self-help information, call NHS 111 or call Samaritans on 116 123 – there's also advice on what to do if you feel in crisis.
We hope you all have a fantastic winter break and a happy New Year!