News |
Friday, 20th December 2019
Journalism students work through the night reporting on the general election
Providing live coverage via their pop-up newsroom in the Library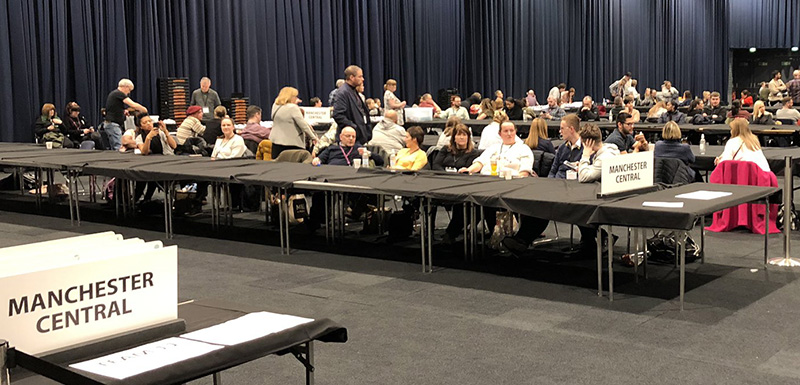 A group of our Multimedia Journalism students got a taste of what it is like to be a live news reporters when they worked through the night to provide the latest updates during the general election.
Working from our general election pop-up newsroom in the Library, our reporters shared analysis of the exit polls and live updates as the results came in via the student news website Northern Quota and their social media channels.
In addition, our student reporters also covered the counts in 13 constituencies across the region and interviewed candidates for their reactions – three students covered five counts for Sky News and Bauer Media, whilst the rest were reporting for Northern Quota and aAh! Magazine.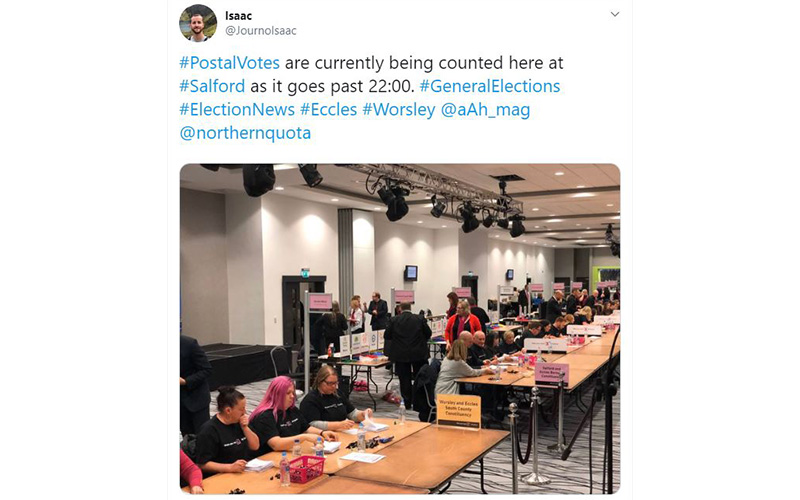 @JournoIsaac at the Salford count
Lizabeth Hannaford, Multimedia Journalism Lecturer, was overseeing coverage from the newsroom:
"When the general election was called, we were keen to replicate a newsroom scenario and make it an authentic live reporting experience for our students. We had more students than ever before take part, and we were really impressed by the quality of the reporting on the night.
"It is vital that students get real-world experiences alongside their learning to help them decide what areas of the industry they would like to pursue when they graduate. It also helps them to collate material for their portfolio and develop the key skills that employers are looking for."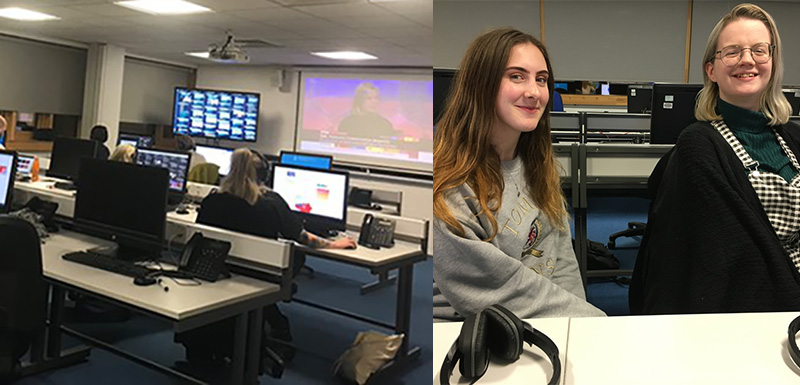 Rhiannon Dickenson, first-year English with Multimedia Journalism student, was live blogging for Northern Quota from the pop-up newsroom:
"I have an interest in politics, so I jumped at the chance to get involved with the live coverage of the election. I had not met any of the students before and I felt a bit worried at first, but everyone was in the same boat and we all worked really well together throughout the night.
"It was fantastic to get real-world journalism experience and it has helped me to develop my writing skills and reporting style too. I particularly enjoyed live blogging in a fast-paced environment and seeing my work on the Northern Quota website gave me a real sense of achievement."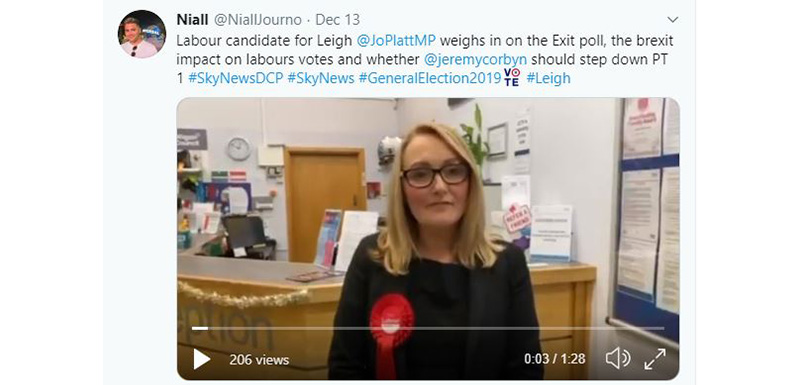 @NiallJourno at the Leigh count
Niall Hay, first-year Multimedia Journalism student, was at the count in Leigh reporting for Sky News and Northern Quota:
"I knew that getting industry experience was a big part of preparing for my future career, but I had not anticipated reporting for a major news outlet in the first term of my first year!
"I thought that Leigh would be a safe Labour seat, so when there was talk of a recount because the exit poll was so close, it suddenly turned very exciting – and even more so when it was a Conservative win.
"Having never been to a count before it was very daunting at first, but as soon as I had interviewed my first candidate, I began to feel more comfortable and was able to think quicker on my feet when asking questions.
"I'm really grateful to have been involved, it was a brilliant opportunity to meet other reporters and build my professional network."
Ben Thompson reports from the Manchester Central count from Northern Quota on Vimeo.
You can see how the election night unfolded on Northern Quota's round-up.