News |
Monday, 9th March 2020
Meet the new Student Officer team 2020/21
Over 3,000 students vote for the new Officers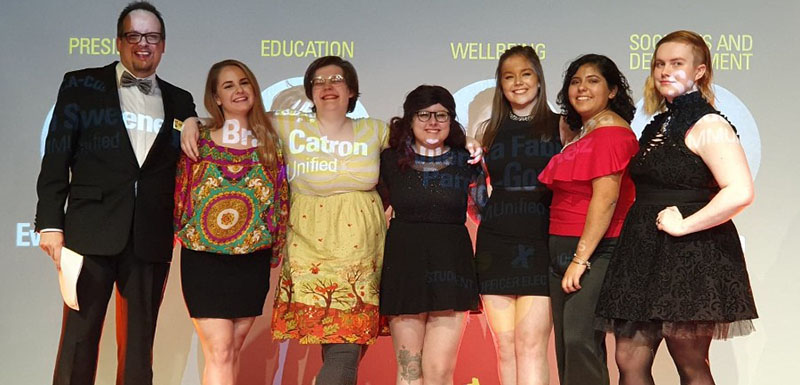 The 2020 Student Officer Elections came to a close on Thursday 5 March, and our new Student Officer team for the 2020/21 academic year has been decided:
President: Evelyn Sweeney
Education Officer: Bran Catron
Societies and Development Officer: Savannah Middleton
Sport Officer: Fabienne Robertson-Bennett
Wellbeing Officer: America Fabiana Pardo-Gomez
The Union received a fantastic turnout of 3,273 student voters and announced the results at a glittering Results Night event that also featured an incredible performance from our Cheerleading Club.
Hosted by Anna Welsh, the outgoing President, and Matt Robinson, The Union's Chief Executive, the evening celebrated the tireless efforts of all the candidates who stood for election and congratulated the current Student Officer team on their achievements throughout their time in post. 
The elected Officers will start their role at the beginning of July 2020, representing the student voice and setting the direction and goals of The Union for the academic year ahead.
Please visit The Union's webpage to find out more about the work of the Student Officer Elections.