News |
Thursday, 4th October 2018
Exciting development of the new Arts and Humanities building
Take extra care when you're in and around the area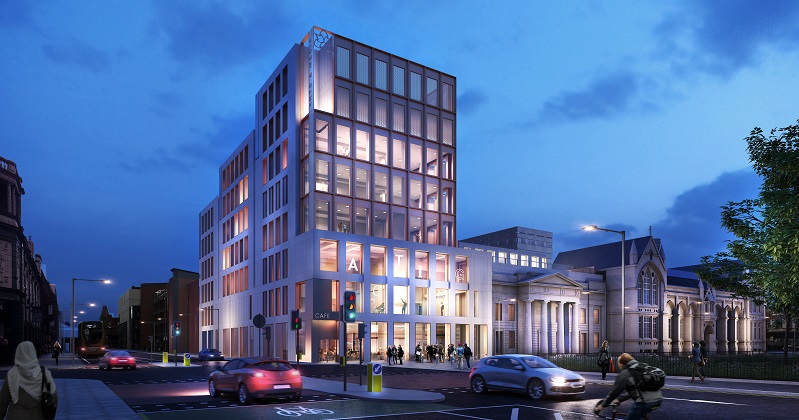 You may have noticed some of the development works taking place around the Geoffrey Manton and Grosvenor buildings and wondered what is being built and what you have to look forward to in the future?
Well the exciting news is, the building work taking place is the creation of our new creative hub for Arts and Humanities at Manchester Metropolitan, which is due to be complete in 2020.
The development will create an inspirational venue for high quality teaching and will introduce a new 180-seat theatre auditorium, poetry library, radio and television studios and language centre.
As you can imagine with any construction project, there will be some minor disturbances in and around this area whilst the work is taking place and the University is taking every precaution to ensure the safety of everyone on campus.
Make sure when you are walking by the Geoffrey Manton and Grosvenor buildings you:
Pay extra attention to your surroundings – remember this is a live construction site
Did you know there is another entrance to Geoffrey Manton on Oxford Road – this is a lot quieter than the main entrance – so you might get into the building even quicker
Always listen and follow the instructions of the site foreman and his team – their job is to make sure you are safe and no accidents happen
There is more traffic than usual on Lower Ormond Street and the designated crossing points should be used when crossing the road
Sometimes the gates near Geoffrey Manton will close for deliveries – so please wait patiently and always leave yourself enough time to get yourself to your lectures
You can find out more about this exciting development on the Arts and Humanities building webpage and please get in touch with newbuild@mmu.ac.uk if you have any questions.