News |
Monday, 3rd December 2018
Emmeline Pankhurst statue unveiling – Friday 14 December 2018
Join in the march with University staff members and students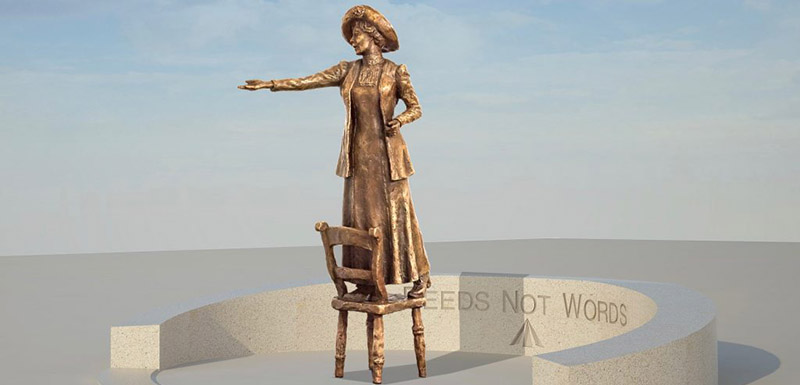 On Friday 14 December 2018, a new statue of the iconic Mancunian suffragette, Emmeline Pankhurst, will be unveiled in St Peter's Square to mark the centenary of the first women getting the right to vote.
Born in Manchester in 1858, Emmeline was the leader of the British suffragette movement who helped women win the right to vote. Her work is recognised as a crucial element in achieving women's suffrage in the UK.
For the University's Sylvia Pankhurst Gender and Diversity Research Centre, the statue unveiling marks the culmination of a year of events organised to celebrate this crucial landmark towards parity.
Staff members and students are invited to join the Centre – and 12 female professors from across the University – to be part of one of two official marches making their way to St Peter's Square for the statue unveiling.
Please join us from 11:15 in All Saints Park on Friday 14 December, to hear music from singer-songwriter Claire Mooney, before joining a procession from the Pankhurst Centre and walk up Oxford Road to take part in the statue unveiling ceremony.
Dr Kate Cook, Senior Lecturer in the Law School and Head of the Sylvia Pankhurst Gender and Diversity Research Centre, said:
"This will be a great event to celebrate a historic moment in Manchester's history. The statue of Emmeline - which would be only the second of a woman in the city centre - will be a permanent tribute to a pioneer and leader of the suffragette movement who helped women win the right to vote.
"It would be fantastic to see as many staff members and students as possible joining us on the march to St Peter's Square. We are also looking for volunteers who are willing to be a steward for the walk, so please contact me directly if you are interested in helping on the day."
The statue unveiling will follow another event in the Manchester Law School on Wednesday 12 December, which will commemorate the first General Election in which women could vote and stand for election. The event will feature invited speakers (including the University's law students) and a special exhibition by Dr Alison Ronan.
The event is taking place in room 2.10 in the Sandra Burslem building at 15:00 and there is no requirement for staff members or students to register.
For further information about both events, please contact Dr Kate Cook at k.cook@mmu.ac.uk.