News |
Wednesday, 5th December 2018
3D printed earbud concept fights disability stigma
Earbuds could enhance and protect hearing for people of all abilities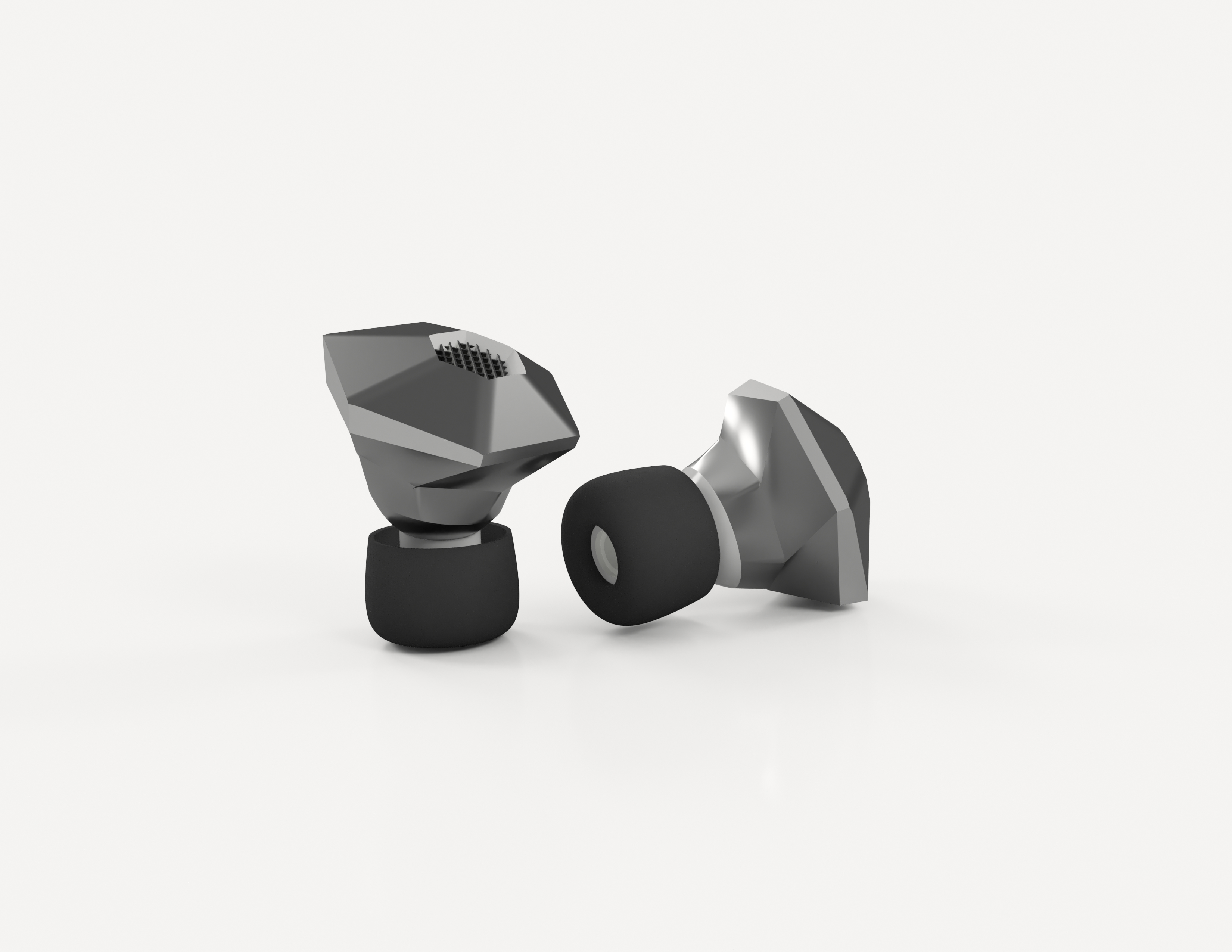 A critically acclaimed concept for 3D printed wireless earbuds — designed for people of all hearing abilities — could enhance users' hearing and help tackle stigma around disability and traditional hearing aids.
Devised by Elen Parry, a student at Manchester Metropolitan University, HeX earbuds are audio headphones that double up as an advanced hearing device, from which everyone can benefit.
Users of HeX earbuds would be able to increase or decrease the volume of their environment, protecting them against hearing loss, extending hearing ability, and enabling control over what they actually hear.
According to the concept, an advanced chip that receives and processes sound signals would differentiate between background noise and the noise you want to hear.
The device could be produced easily on a large scale – thanks to the opportunities opened up by 3D printing and connected manufacturing systems – and the silicone earbuds would be personalised and printed to fit any shape or size of ear exactly.
I want to transform hearing aids into a desirable wearable tech product that gives people enhanced hearing, style and confidence – something that anyone might want to wear.

- Elen Parry, designer and Manchester Metropolitan student
HeX earbuds were the top pick for the Design Council's 'New Designers 2018' event, as chosen by their Chief Executive, Sarah Weir. More info here.
Elen Parry is a student on the Industrial Digitalisation MSc programme at Manchester Metropolitan, and an International Autodesk Student Ambassador for the UK. She said: "My mission is to encourage social inclusion through my designs, to create improved situations for everyone. The driving principle behind creating HeX earbuds was to create a hearing device that is for everyone – whether you live with hearing loss or perfect hearing.
"People with disabilities often feel excluded and conspicuous because of their medical devices, so I want to transform hearing aids into a desirable wearable tech product that gives people enhanced hearing, style and confidence – something that anyone might want to wear.
"3D printing enables us to manufacture them quickly and relatively simply, so HeX earbuds could be easily produced for a mass audience."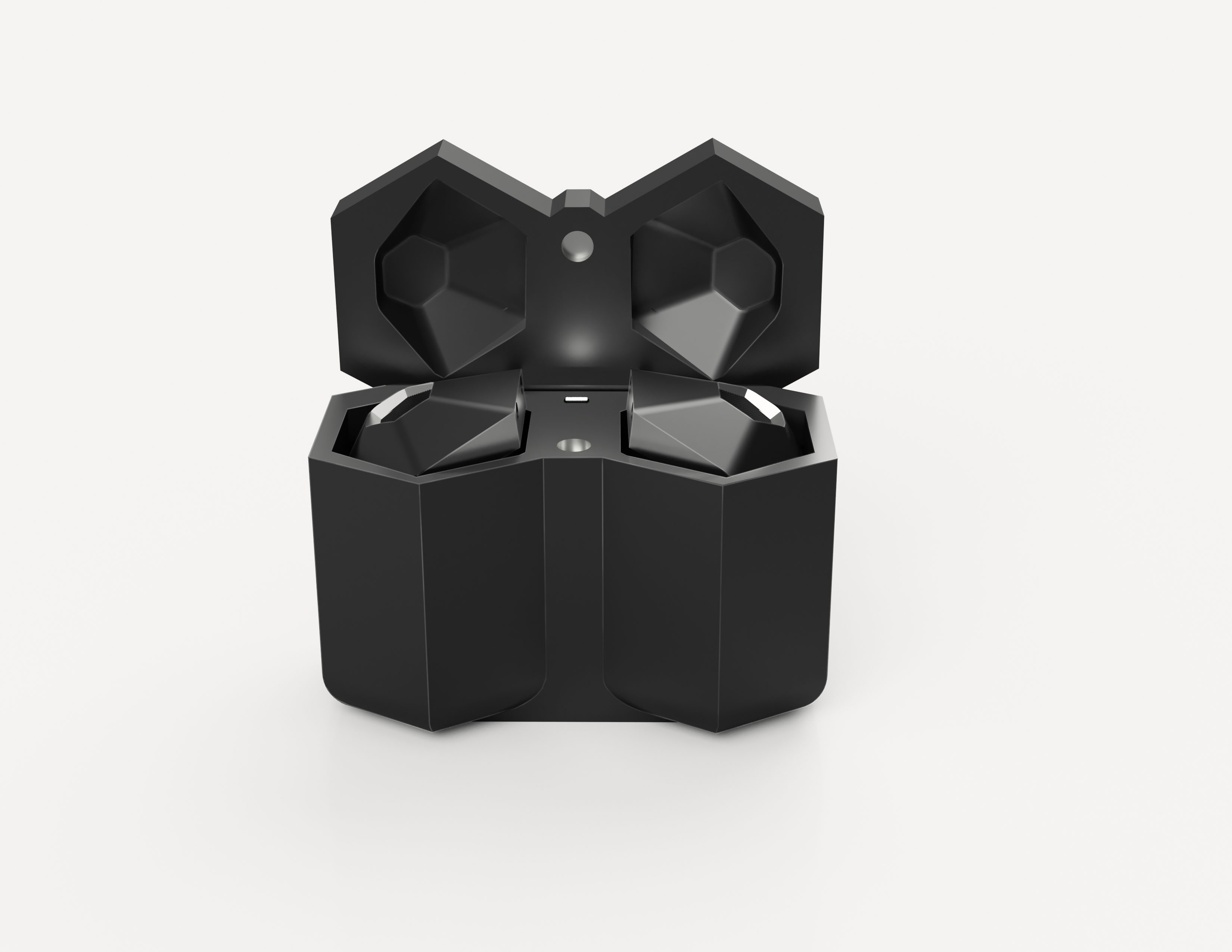 HeX earbuds
The earbuds would offer the latest connective technologies to make them a desirable device for a mass market, no matter the users' hearing ability.
Embedded Bluetooth, infrared and motion technology would allow users to connect with other devices – for taking phone calls or streaming music, for example – on the go.
A hexagonal design provides a natural multi-directional hearing experience, so that the user can hear and process a wide range of sounds.
PrintCity at Manchester Metropolitan
A prototype of the earbuds has been produced at PrintCity, Manchester Metropolitan's advanced 3D printing and digital manufacturing hub, which can produce virtually anything through additive manufacturing, and is open to both researchers and industry.
PrintCity's academic lead, Professor Craig Banks, said: "This is one of many examples of how additive manufacturing and out-of-the box thinking by Elen disrupts the current design of medical devices."
With a vision to be at the forefront of cutting-edge technology, HeX aims to incorporate the latest projected technology of rechargeable graphene batteries to power the earbuds, with dual connectivity strips for fast charging.
Elen Parry is featured in the latest edition of Met Magazine, as one of the students who are achieving their dreams. Click here to read.