News |
Thursday, 6th December 2018
'Tis the season for giving with the Library
Find out more about the Library's foodbank collection and their 12 days of Christmas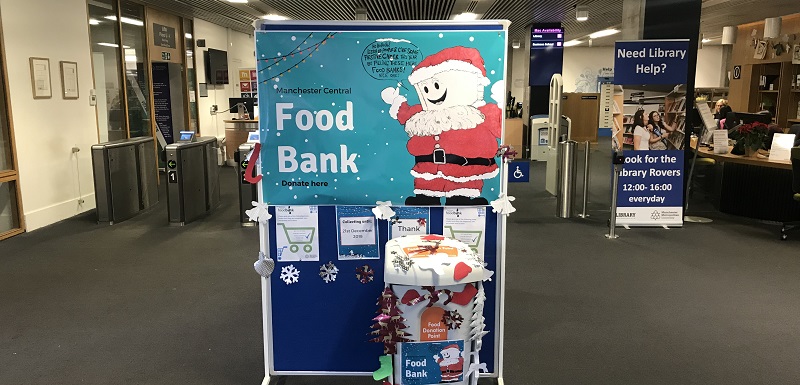 Colleagues at All Saints Library are making it easy for us to donate to people in need this Christmas, while their '12 days of Christmas' campaign is packed full of useful information to help us all get the most out of the resources they offer.
Foodbank collection
Back for another year, the Manchester Central Foodbank collection point is now in All Saints Library, making it easy for you to help families in Manchester this Christmas.
One in five of the UK population live below the poverty line and our donations will be used to help local people in need over Christmas. Last Christmas, we donated a fantastic 99.6kg of food and toiletries – can we do even better this year?
The collection point will be open until Friday 21 December and the Foodbank are looking for any unopened, non-perishable and in-date items, including:
Tinned food – including fish, meat and fruit
Pasta and rice
UHT/long life milk and fruit juice
Tea and coffee
Toiletries – especially woman's sanitary products, shampoo and shower gel
Big or small, every donation made will help to transform someone's Christmas!
12 Days of Christmas
From now until Friday 14 December, the Library will be sharing daily treats on their Instagram account that you can access for free as a Manchester Met student or staff member.
Spoiler alert: the first 'academic' advent calendar was about BOB (Box of Broadcasts). BOB gives free access to two million shows from 65 free-to-air channels dating back to the '90s – so if you fancy a box set binge over Christmas, this is perfect.
Also, if you pop over to their Twitter account, you also have a chance to win a Library tote bag. Each day they'll post a drawing of a Christmas film or book. All you have to do is email library@mmu.ac.uk with all the answers on Friday 14 December. Best of luck!