News |
Friday, 7th December 2018
Winter break opening hours
If you're on campus, find out everything you need to know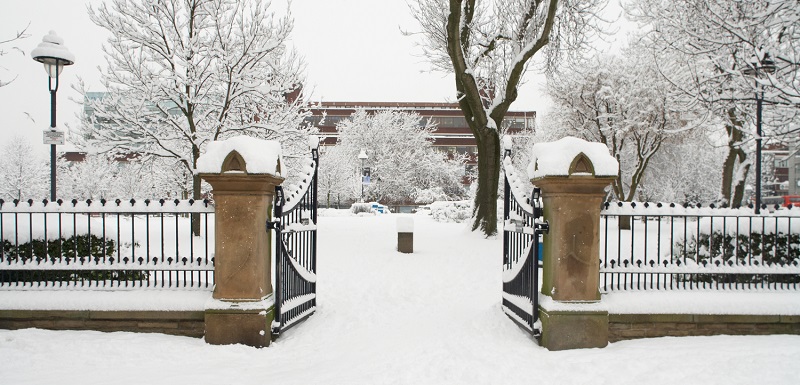 The University closes on Friday 21 December 2018 and will reopen on Wednesday 2 January 2019 however, some of our key facilities and services will remain open for students on campus during the winter break.
Please note that the Student Hubs and Student Services (including Counselling, Health and Wellbeing and the Disability Service) will NOT be open during the winter break.
Security
Our friendly Security team are available all year round and are always happy to help if you need some support on campus. You can give them a call on 0161 247 2222 (Manchester) or 0161 247 5200 (Cheshire), or via the SafeZone App – if you haven't downloaded it yet, do it today!
Library
The All Saints Library in Manchester will be open throughout the winter break, but its help desk and the Cheshire Library will be operating on reduced hours. Remember to bring your student ID card with you if you want to use the resources.
IT Helpdesk
If you need any IT support, you can contact the out-of-hours service at any time of the day or night – simply call 0161 247 4646 or email it.helpline@mmu.ac.uk.
Halls of Residence
The All Saints and Birley Halls' receptions will be open 24/7 for students staying in student accommodation over the holidays.
Our halls teams will also be running the Christmas Contact Centre - feel free to pop down for a chat or contact them on 0161 247 5858 throughout the day or night.
Students' Union
Visit The Union's webpage for their Christmas opening hours between Saturday 15 December 2018 and Monday 14 January 2019.
Buildings and Catering
You can view the academic building, sports facilities and catering outlets' closure dates here.
Top things to do in Manchester
Whether you're staying in halls or just live locally, there's lots to do in and around campus. Ashleigh, a recent graduate and current Residential Life Intern, shares her top things to do in Manchester to help you make the most out of your winter break.
We hope everyone has a merry Christmas and fantastic New Year!