News |
Friday, 21st December 2018
John Dalton H₂O Mural Competition
We're on a mission to increase the use of our wonderful water fountains and decrease purchases of bottled water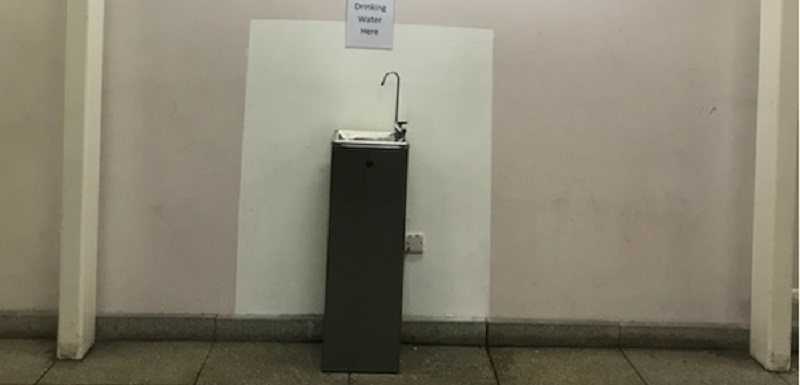 Enter our competition to design a mural to make our water fountains more attractive and show off your creativity! The winner's work will be seen by the visitors, staff and students that pass through the John Dalton building every day, and will make a positive impact on people and the planet. You don't have much time – the competition closes at midnight on Sunday 20 January 2019.
As part of the design, we would like to highlight the new Manchester Fuel Cell Innovation Centre (MFCIC) within the mural, emphasizing the fact that water is one of the only products of the energy producing process (the others are electricity and heat). The concept should complement the MFCIC's identity.
The winning student will work with the Faculty of Science and Engineering Marketing Team and the University's Design Studio to bring their ideas to life. You will need to be available during the week commencing 7 January to meet with these teams.
How to enter
Submit your initial concepts in and three examples of your work, with your full name and student ID number to environment@mmu.ac.uk before midnight on the new extended deadline of Sunday 20 January.
Dimensions:
Water fountain H-36 inches W-12 inches
Wall area surrounding fountain H-134 inches W-114 inches
Entries should take influence from the Manchester Fuel Cell Innovation Centre Identity.
The submissions will be judged by a panel from across the University, with the winning design announced shortly after the closing date.
The winner will attend consultation meetings with the University's Design Studio and Faculty of Science and Engineering Marketing Team, before finalizing their design.
We will unveil the winning mural in the John Dalton Building at the end of January.
If you have any questions, please email environment@mmu.ac.uk.