News |
Thursday, 21st February 2019
Five minutes with… Ben Pearson, Sports Development Placement Student
"Try to get involved in as many things as you can, even if that means stepping out of your comfort zone."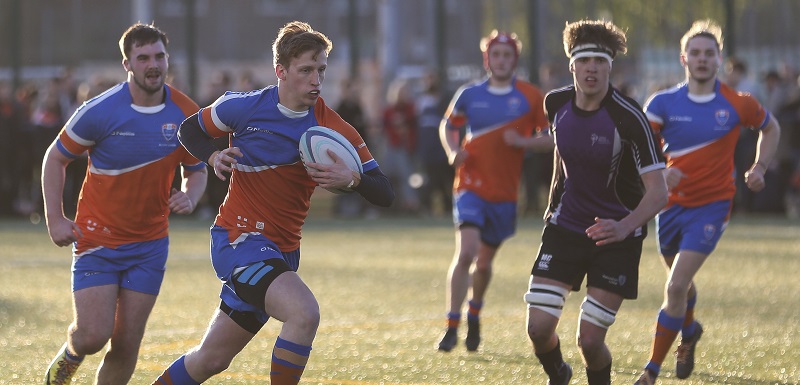 Ben Pearson is a Sport Management student who is currently on placement with MMU Sport and the Student Communications team spent 'Five minutes with...' Ben to talk about Active Campus and how you can make the most out of your time at Manchester Metropolitan:
What does your typical day look like as a Sports Development Placement Student?
"I decided to do a placement year to enhance my CV and get real-life work experience before I finish university. I am really enjoying my placement with MMU Sport and I have lots of opportunities to develop my skills that will set me up for my future career.
"MMU Sport offer 50 free sports and activities on campus each week and I am responsible for making sure everything runs smoothly, as well as getting feedback from participants to ensure we're offering the best experience possible. I also organise coach-led short courses for our Active Extra programme, which includes liaising with external organisations, arranging transport and promoting the sessions throughout the University."
What is your favourite thing about Manchester Metropolitan?
"Being part of the Rugby Union team and competing nationally is great fun, and has really enhanced my experience at Manchester Met. I've made some fantastic friends over the years through the sports community and it has opened up some brilliant employability opportunities – like volunteering and working as a Sports Activator."
If you can give one piece of advice to students, what would it be?
"Try to get involved in as many things as you can, even if that means stepping out of your comfort zone – if you don't like it, just try something else instead! The Union hold an annual Freshers and Refreshers Fair that gives students a chance to meet all the sport clubs and student societies (you don't have to be a fresher to go) and you it's worth keeping an eye on The Union and Student Life event pages too."
What is Active Campus and why should students join in?
"Our Active Campus programme offers a range of free sport and activities on campus each week and gives students and staff members the opportunity to play for fun and make some new friends. From ultimate frisbee and squash, to table tennis and mindful meditation, there's something for everyone – and it doesn't matter if you have never played the sport before, as the friendly Sport Activators or Fitness Instructors are on hand to help you through the session."
Other than being part of a sports club, how else are you getting the most out of your student life?
"Volunteering has been another big aspect of my time at Manchester Met and it really helped me when I was applying for my placement too. I've clocked up 100 volunteering hours so far in range of sport volunteering opportunities – including supporting Street2Feet homelessness football event, which is something I never thought I would have got involved in before joining the University.
"I also volunteered to support the Great Manchester 10k in May 2018 – making sure that our students, staff and alumni who were running as part of Team Orange had everything they needed and get to the starting line on time. It looked like such a fun day, so I have decided to sign-up for this year and show that I'm #McrMetProud too!
"If anyone is thinking of joining Team Orange (or has already signed up) and wants to kick-start their training, I'd definitely recommend coming along to our Jogging Club that sets off from All Saints Park at 4.45pm every Thursday – cheeky Active Campus plug there I know, but it really is the perfect stepping stone if you haven't done a lot of running before."
Thanks for your time Ben and it's great to hear you're getting so much out of your time with us!
If you're looking for ways to have fun and get fit, why not sign up to Team Orange or check out the Active Campus timetable.
Remember, you can access career support from the Careers and Employability team and keep up-to-date with the latest University news with Student Life.