News |
Wednesday, 20th March 2019
National Student Survey 2019 – prize-winners announced
Thank you to all the students who have already completed the survey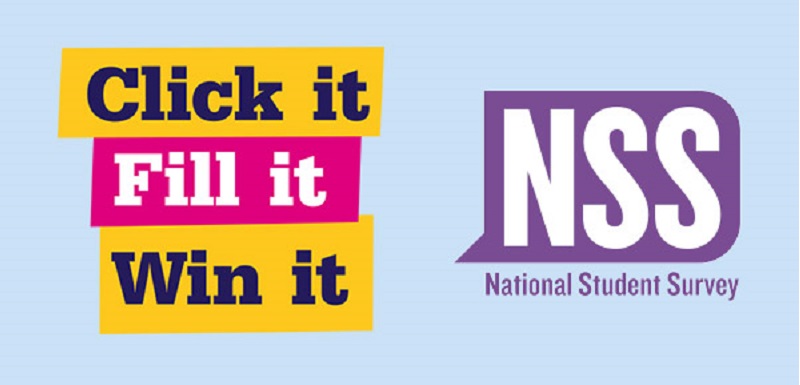 There are lots of ways for you to share your views throughout your time at Manchester Metropolitan and your feedback is used to help make improvements on every aspect of your student experience.
Each year, the National Student Survey (NSS) gives our final-year undergraduate students the opportunity to reflect on their university experience and provide feedback about their course.
As part of our NSS promotional campaign 'Click it Fill it Win it' (that closed on 28 February), eligible students were entered into a prize draw to win one of 101 great prizes:
1 x £500 holiday vouchers
100 x £50 Amazon vouchers
The 2019 NSS prize-winners are listed below and have been emailed with details of how they can collect their prize.
Although the prize draw is closed, eligible students can still make a difference and share their views by completing the NSS until Tuesday 30 April 2019 when the survey closes.
Please visit the NSS website to complete the survey and get in touch with studentcomms@mmu.ac.uk if you have any questions.
NSS 2019 Prize Winners
£500 holiday voucher:
£50 Amazon voucher:
Aamir Mohammad Masoom
Aaron Christopher John Simon
Abbie Lauren Hilliam
Aimee Alexandra Selley
Alexandra Dickson
Alexandra Watson
Alice Simmonds
Amanda Jayne Flanagan
Amber Harrison
Amy Shearson
Anish Nagar
Anna Nicole Owen
Antonia Andreea Albert
Ariadna Evani Mane Baio
Bethany Preece
Charley Riley
Charlotte Finlay
Chelsey Leigh Ogden
Chloe Thompson
Christopher Mcturk
Claire Pickering
Cleve Charles
Courtney Louise Stanley
Culonn Troy
Daniel Merenda
Daniel Shuttleworth
Danielle Page
Dannielle Freeman-Cain
Dannielle Rose Woodward
David Baggaley
Ebbie Danson-Chappell
Elena Rose Mcloughlin
Emma Jane Jones
Emma Sumner
Eve Manson
Fawaz Sohail Zafar Chaudhry
Finn Doyle
Frances Alexandra Parker Wood
Georgia Diane Eyre
Georgina Isabella Pace
Halima Hussein Mohamud
Hanna Mebratu
Harry Cotton
Harry Stobert
Hassan Mobarak
Holly Bagnall
India Raine Stephenson
Jade Smallshaw
Jamie Pollard
Jessica Fielding
Jordan Allan-Alberts
Katie Jane Blackburn
Klein Regan
Kudzai Jacqueline Mutashu Chinner
Laura Emily Milton
Laura-Jayne Atkinson
Lewis Bunting
Luisa Naomi Mateus De Castro Paiva
Luke David Kennedy
Mathilda Hardstone
Maxine Hughes
Megan Beale
Michael Brian Moores
Michelle C Majalang
Michelle Chu
Mohammed Bilal Yousaf
Mohammed Musa
Mollie Dracup
Muhammad Ghazanfar Aslam
Nafisa Osman
Nelao Andrea De Almeida
Nicole Marion Seddon
Nihal Arif
Nurul Iman Binti Ibrahim
Olivia Clark
Olivia Hughes-Lundy
Olivia Kate Thorpe
Paulina Wielewicka
Rachel Anna Bunting
Rachel Louise Hawkins
Rebecca Jane Cooke
Rebecca Jane Kirk
Rifhat Akhter
Robyn Norrey
Rosemary Potter
Sacha Rose Dudley
Samuel Adamson
Sanah Tania
Sarah Jayne Butterworth
Saran Hickey
Shan Shan Kong
Sharna Lycett
Shazia Begum
Sian Kirwin
Siobhan Polly
Srirat Jongsanguandi
Syrine Nasuf
Tonisha Philippa Marina Hazledine
Victoria Woollett
Yasamin Salimi