News |
Thursday, 21st March 2019
Tom Hindmarch's latest Team Orange blog
Top tips to help get you over the finish line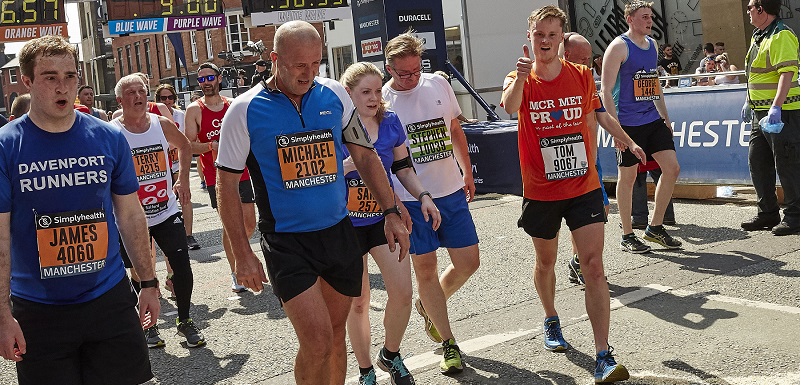 "The Great Manchester Run is only 2 months away (Sunday 19 May), so it's time to lace up your running shoes and get training.
"Whether you are a 10km first timer or seasoned runner, it's important that you prepare well in advance of the run. 10k or 6.2 miles is a long way, if you ran six miles south from the Business School you would reach the centre of Stockport! So respect the distance, plan ahead and make sure you are run ready come Sunday 19 May."
Set yourself a goal
"What do you want to get out of the run?
"Running is an individualist sport, and that's part of the beauty of it, it's all about you. Everyone will go into the 10k in May with a different goal, whether it's soaking up the atmosphere, running the 10k without walking or maybe setting a new personal best (PB).
"Set a clear goal of what you want to achieve and then plan what you are going to do. Setting an ambitious goal will help provide you with the motivation for your training ahead."
Buy a decent pair of trainers
"I often see people running in casual trainers or 'gym shoes' – don't do it! If you want to stay injury free, get a decent pair of specialist running trainers. It is really important that you get the right pair of trainers before you start training.
"Most running shops offer a gait analysis as standard, which is used to identify your running style and the trainers that will best suit to your running needs. Everyone runs differently, so there is a wide a range of trainers out there and it's essential that you run in the right type shoe."
Do some running
"Most 10k training plans are between 10-12 weeks, so the time to start training is now. If you're new to running or if this is your first 10k, don't try to do too much too soon. It takes time for your body to adapt to the demands of running, so take your time and build up your distance gradually.
"The Team Orange webpage has a range of really useful training plans for all abilities."
Test out your pace
"I always give the same advice to anyone training for a run – do a parkrun. Parkruns are free, 5k timed runs, which take place every Saturday morning at 9am (yes it's early for a weekend) in local parks around the UK. There are more than 20 to go to within Manchester and Greater Manchester (including Heaton Park and Platt Fields Park).
"Not only are they superb community events, they are also a great way to test your pace and get that competition feel for free – find a parkrun near you today."
Be part of the team
Everyone at Manchester Metropolitan is invited to run the Manchester 10k with Team Orange on Sunday 19 May and the great news is, you get a fantastic discounted run entry fee. You can find more information on our Team Orange webpage.
Whether you're running, jogging or walking, in a group or on your own, the Team Orange spirit will get you over the finish line. Set your own pace, have fun and sign up today.