News |
Thursday, 13th December 2018
Five minutes with… Alan Cain, Head of Security & Business Continuity
"We're one of only three universities where all of our Security team has received mental health first responder training."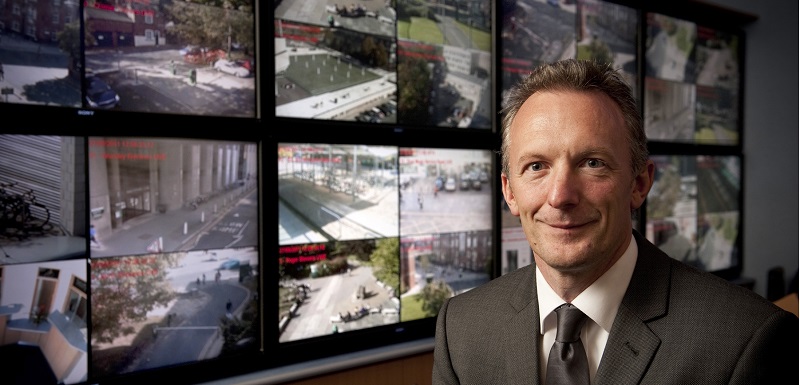 Alan Cain, Head of Security & Business Continuity, tells the Student Communications team about Manchester Metropolitan's dedicated Security team and shares tips to help you enjoy student life safely.
What does a typical day look like as the Head of Security for the University?
"I am responsible for all aspects of safety at Manchester Metropolitan, which covers everything from managing our campus Security team to ensuring that we have emergency fire, flood, terrorism and loss of power plans in place – although I hope we never need to use them.
"We have a team of 32 campus Security Officers who operate all year round and their top priority is to make sure that everyone feels safe. As well as having a presence on campus, monitoring our CCTV cameras and responding intruder/fire alarms or alerts to our control room, they also offer out-of-hours mental health support – we're one of only three universities where all of our Security team has received mental health first responder training."
What do you think is the best thing about Manchester Met?
"I was the first person in my family to go to university and have experienced first-hand how many doors having a degree opens for both the student but also their family too. It's great to see that there are a lot of students at Manchester Met who are the first generation in their family to go to university too, and that there's lots of study support on offer to help all students achieve their potential."
If you could give one piece of advice to students, what would it be?
"Learn to manage your time as well as possible so that you get to make the most out of life as a student. Sometimes it doesn't feel like it, but you really do have plenty of time to 'work hard and play hard' – 168 hours a week, to be exact!"
How can students get in touch with our Security team?
"Whether you're wanting some support on campus or some safety advice, our friendly Security team are available 24/7 to help. You can also give us a call on 0161 247 2222 or pop into our office, but one of the easiest ways to get in touch with the Security team is via the SafeZone App.
"The SafeZone App is free to download, easy to use and has lots of really useful features:
'Check in' and tell us where you are on campus any time of day or night
Quickly and discretely call for assistance – whether it's for first aid or in an emergency
Get notifications sent directly to your phone if there is an incident on campus
"SafeZone covers both the Manchester and Cheshire campuses and our Security team will respond to alerts as soon as they are received – so if you haven't downloaded it yet, do it now!"
Where can students find out more information to help them stay safe on and around campus?
"Manchester and Cheshire are great places to live and study, and our Student Safety webpage has lots of useful information to help students enjoy student life safely, including information on reporting a hate crime and accessing our Consent Matters training.
"If students are out enjoying Manchester's nightlife, one thing that I can't stress enough is the importance of sticking together. In recent years there has been an increase in accidental drownings that have involved alcohol and many of these could have been avoided if party-goers had not gone home by themselves and/or walked near water."
There's lots of advice and support available at Manchester Met to help keep you safe whilst having fun in this great city and for more information, please visit the Student Safety webpage or get in touch with one of the Security team.