A whole new world
Imagine a factory that can manufacture customised goods on the same scale and at the same speed as mass production, but with each item specifically tailored to a customer's requirements.
Or consider a computer platform that helps you buy and sell renewable energy with your neighbours as part of a community mini-power grid.
It may sound like science fiction but it's actually technological fact.
Fourth Industrial Revolution
They are examples of the kind of progress and prospects brought about by the Fourth Industrial Revolution – a term encapsulating a new era of the development and implementation of digital-driven improvements everywhere from homes to workplaces.
Known in shorthand as Industry 4.0, it concerns the adoption of breakthrough technologies from artificial intelligence to drones and from machine learning to immersive experiences.
Regardless of whether Industry 4.0 is considered a concept, a phenomenon or a philosophy, it has the potential to create as seismic a shift in our everyday lives as the previous three industrial revolutions that marked the rise of steam power, mechanisation and, most recently, computers.
The key to Industry 4.0 is harnessing an abundance of data and intelligent networking to optimise processes, eliminate obstacles and boost sustainability.
In business this equates to more efficiency, less waste and more profitability.
For people, it leads to more personalisation of goods and services, higher user satisfaction and new opportunities.
It gives people ownership of what they're doing. What we're seeing is that work
should become more fun and focused
Manchester Metropolitan is at the forefront of understanding and interpreting the role that Industry 4.0 can play and is working with companies and public bodies in researching and developing new and exciting applications, and mentoring leaders and workers.
It is helping to bridge the Industry 4.0 skills gap by equipping the engineers, innovators and analysts of tomorrow with the knowledge and techniques they will need to bring the best out of software and hardware.
Yet for all of its promise, Industry 4.0 is not yet mainstream.
Dr Carl Diver, Reader in Industrial Digitalisation at the University, said: "Lots of people struggle to get their heads around what it actually means and I think it means different things to different people.
"From an industrial point of view in engineering or a manufacturing point of view, it's where you're having problems in your production facility or in trying to produce your products and you have to ask yourself where the key area is that is causing your problems today.
"Let's focus on that and let's focus on what kind of digital technology could help you improve.
"So what information do you need to help you make decisions quickly and effectively that'll help with your productivity and manage your resources effectively?
"It might be a bottleneck in your production line where, for example, machines break down quite often and you're not 100 per cent sure why it's happening.
"We can put sensors inside the equipment that will provide the information about an impending mechanical failure to either the operator or the other stakeholders within the facility that need to make a decision on how to address that, allowing them to make that decision quicker.
"But that's just the first stage.You could start putting machine learning or artificial intelligence on top of that and so the system starts learning and correcting itself so that you never get to the breakdown point."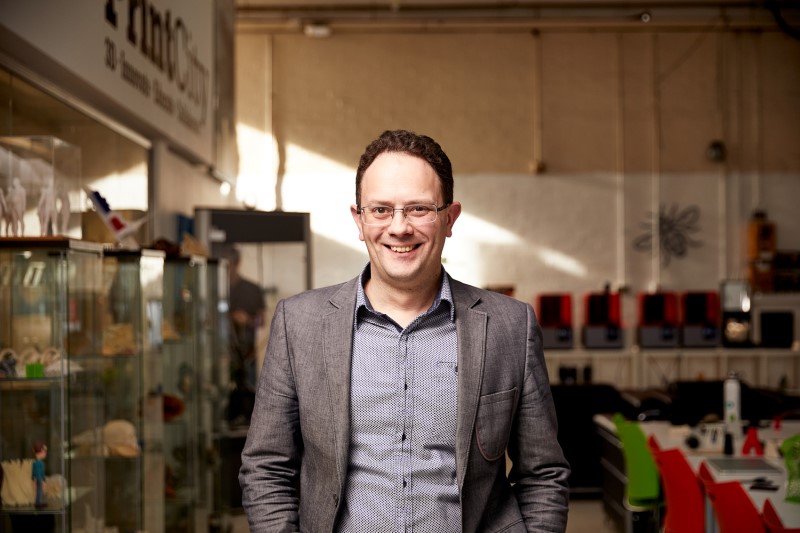 As consumers, we are used to having individualised convenience and insight at our fingertips through things like music streaming service Spotify, taxi cab hailing smartphone app Uber or online marketplace Amazon.
Unusually, it is the manufacturing sector – so often the pioneer for new technology that later becomes commonplace – that is playing catch-up.
Diver said: "Normally, you would expect things like this to happen in industry first and then for the commercial or domestic applications to come along later.
"This seems to be happening the other way around and I think that's really down to aspects around confidentiality, security, cybersecurity and protection of data that people are concerned about.
"And I think there's a misconception that it's all about robotics and full automation and businesses are concerned about the associated cost.
"There are actually simple solutions – cost effective solutions – where you can put relatively cheap sensors onto something and get that data onto the cloud so it is available to decision-makers effectively inr eal time."
Best use of the new tech
The University, in its consultancy and teaching capacity, is able to show businesses and their employees how they can best utilise the new technology to reduce or eliminate activities and practices, particularly those that are time intensive.
It can free up workers tofocus on tasks such as product development, product refinement, sales and new business generation that can bolster a firm's bottom line.
Diver said: "Companies will start to see very quickly that suddenly information that may have taken a week to gather is available in real time and things can be done quickly and effectively.
"There will be companies who already have information available electronically or digitally, but the question is: what's the next step?
"For a company that might already have a certain degree of connectivity, the first step for them might be looking at artificial intelligence or machine learning.
"Maybe you're not looking at just one part of a production line, you're looking at the whole system and then using that to try and streamline it and make it more efficient in terms of consumers and customers."
The earliest and most apparent example of Industry 4.0 in action has been the introduction of smart robots to production lines in factories and warehouses.
As a result, much of the Industry 4.0 media coverage has focused on the fear that a growth in automation will spark mass job losses.
But Diver believes the technology will still need human oversight, guidance and development, changing the nature of the work rather than rendering it redundant.
He sees wide scope for collaborative or assistive robots that interact with workers to make manual tasks safer and less physically demanding – such as arobot exoskeleton that an operator would wear and control and which eliminates the heavy lifting while still allowing dexterity.
It could empower an employee who would otherwise not be capable of the role.
Diver said: "The thing that I get from lots of organisations is that people are still key.
"We need to give people the opportunity to embrace this technology and actually start being creative and innovative and making their day-to-day lives and jobs more efficient and more effective.
"It gives people ownership of what they're doing. What we're seeing is that work should become more fun and focused.
"By doing that, we will start to see really exciting new products being developed, new ways of working and things that probably we haven't even discovered yet."
Get rid of the fear factor
Diver added: "For those people in an industry that have been there for a while, there is an opportunity for them to come in to training, get rid of the fear factor, embrace and engage with the technology and actually see how it can help them be more efficient in their day to day jobs.
"It is important to appreciate how some of our commonplace digital technologies have been developed and the user interface is very comfortable, very easy to use.
"My dad bypassed using a computer, but he's very comfortable now on a smartphone and the tablet because it's quite intuitive."
A key element of the University's programmes is the importance of the transferability and practical application of the skills and knowledge taught.
It counts equally for the young graduate engineers and entrepreneurs – nicknamed 'future disruptors' – as for themore experienced but perhapsless tech-savvy workers being reskilled and upskilled.
Introducing the Connected Curriculum
Manchester Metropolitan is one of just five UK universities partnering with Siemens to embed the multinational company's academic teaching programme, Connected Curriculum, in their courses – but the only one doing so at postgraduate level.
Students on a suite of new masters courses will benefit from simulation environments, curriculum examples, case studies and real-life problem-solving tutorials that complement the subject's core content.
In addition to providing a Connected Curriculum bundle of industrial hardware and software, Siemens will deliver guest lectures and product training, and host site visits.
Diver said: "There's a clear digital skills gap and we're seeing that message in reports from the Government, from different employer bodies, from the Greater Manchester Combined Authority and from Manchester City Council.
"There is a clear focus from the University to engage with industry, to understand what industry is after and where the pain points are."
Entrenched in all of the University's Industry 4.0-related courses and its research is the blurring of traditional practices and the encouragement to adopt a fresh mind-set to problems, the proverbial 'thinking outside the box'.
Beyond the obvious potential in areas such as manufacturing or engineering is the harnessin gof the new technological opportunities by less obvious fields such as health, art, architecture and fashion.
Specialised workers will no longer work in isolation, with collaboration being key, and this prospect is one of the most exciting and potentially most fruitful aspects of Industry 4.0, Diver believes.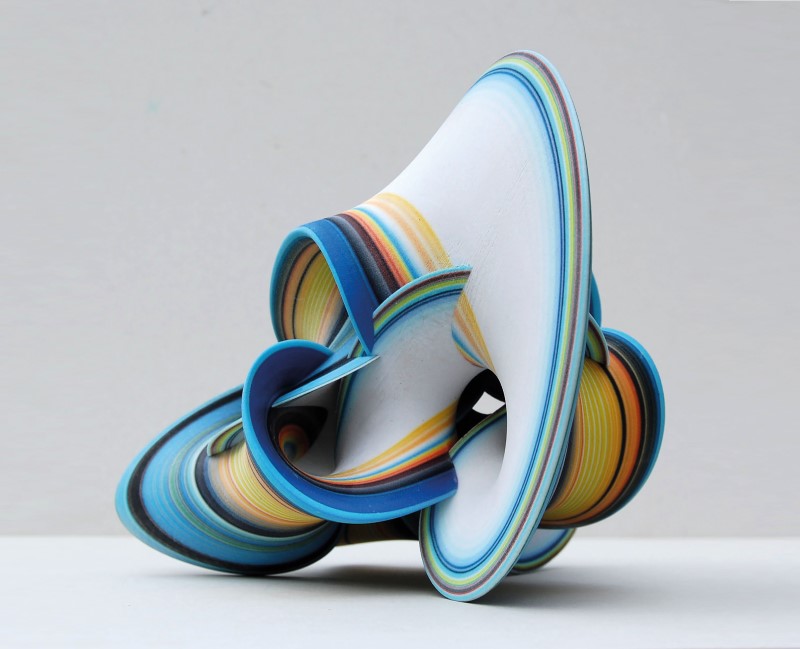 He said: "One of the aspects that we're pushing is the multidisciplinary nature of Industry 4.0.
"One thing that we do really well at Manchester Metropolitan is our cross-iscipline collaboration.
"From an engineering point of view, it's about bringing those other disciplines in such as art and design – the creative side.
"You need people with different skill sets. You can be an expert in one area but you need some basic skill sets in many other areas or disciplines.
"It's difficult to understandwhat will happen, but I think we'll be blown away over the next few years by the different approach to doing things."
We want to be recognised as the go-to place for Industry 4.0 and globally as a real innovator
However, there is still a lack of understanding and inertia among businesses in the current political and economic climate, and so innovation is needed to generate an impetus for investment and implementation.
Other countries such as China, with its Made in China 2025 blueprint, and Germany, whose government actually coined the term Industry 4.0, are pressing ahead with expansive plans to develop and integrate digital technologies into their economies.
Closer to home, the British Government published an Industrial Strategy outlining its policy and a group of companies led by Siemens UK CEO Juergen Maier produced a response called Made Smarter which elaborates on the plans and suggests solutions.
Go-to place for Industry 4.0
The Government has pledged £120million towards technological enhancements with a target of improving manufacturing productivity by 30 per cent.
The University is supporting a £20million Industry 4.0 pilot scheme in the North West and proposed the foundation of a regional Industry 4.0 board to bring together local stakeholders.
Diver said: "We have been doing a lot of work over the last year or two around Industry 4.0.
"It's been adopted by us as a key strategy for the University and we have a wide range of technologies that people can engage with, embrace, try out, and see what the opportunity and the potential of that technology is.
"Going beyond that, we want to be recognised as the go-to place for Industry 4.0 and globally as areal innovator.
"It's about not being afraid to challenge things – and pushing the boundaries of technology."
Case study: Lacoste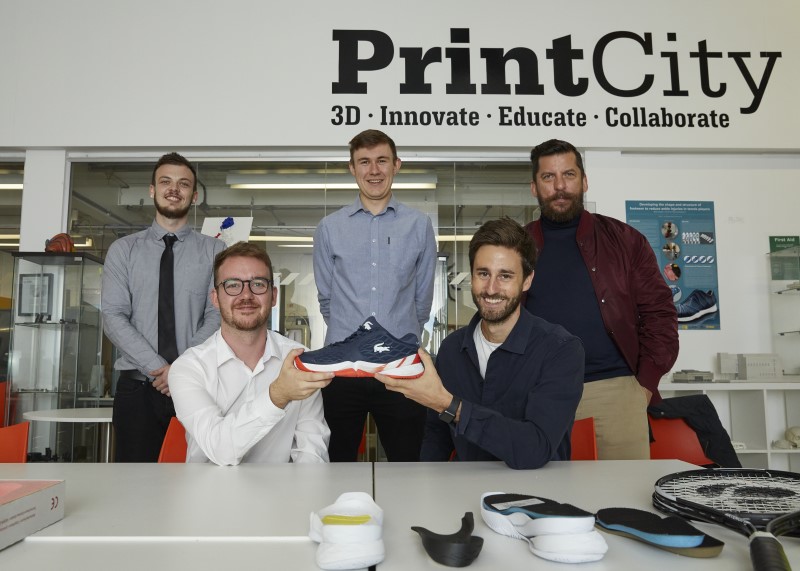 Students worked with the global lifestyle brand Lacoste on a brief to investigate if the innovative use of Computer Aided Design methodologies, 3D scanning and 3D printing techniques could improve the design of sports trainers to help reduce injury.
Brett Turner, Connor McAleer and Mark Chester were MSc Industrial Digitalisation students based at the University's digital manufacturing facility PrintCity and the project was part of a sponsored masters organised by the University's Manchester Fashion Institute.
They consulted and drew on the expertise of a wide range of Manchester Metropolitan and sector experts, including a musculoskeletal biomechanics professor, a sports engineer, psychologists, a physiotherapist, an tennis coach and a consultant orthopaedic surgeon.
Volunteer players conducted tennis-related drills so that embedded sensors could capture biomechanics data and their feet were 3D scanned to create a digital model of a foot for use
in virtual concept development.
Generative Design – computer software by Autodesk in which an algorithm creates multiple permutations of a product design according to user-defined specifications – allowed improvements to be incorporated into hundreds of potential new footwear blueprints.
Ed Batchelor, Lacoste's Senior 3D Design and Tooling Developer, said: "Lacoste has identified a need for further data collection in order to explore specific aspects of the tennis shoe design and understand the potential impact of these on player injury.
"We take great pride in our ability to facilitate learning opportunities by providing the resources and tools necessary to support everyone's goals.
"This has helped us build the relationship with Manchester Metropolitan in our first year in partnership.
"We challenged the students to consider all aspects of the product development process in order to create a range of concepts, without the constraints of previous industry experience.
"The collaboration between all the faculties allowed for data to be collected and analysed and then run though generative design process to further increase the options of outcomes.
"We are looking forward to further collaborations on a range of design and technology briefs in order to redefine the future of Lacoste performance products."
Case study: ENERGY-IQ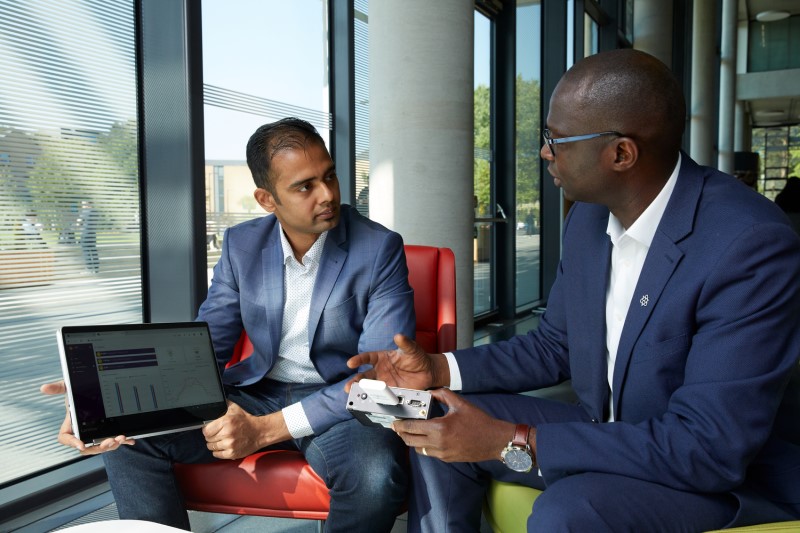 Experts from Manchester Metropolitan are helping to run an innovative smart energy services demonstrator project that aims to reduce carbon emissions and cut costs.
Business customers join a closed virtual energy grid by connecting their building management systems and their energy generation and storage devices, such as solar panels, batteries, combined heat and power plant and electric vehicles, to smart meters.
A predictive platform, underpinned by artificial intelligence, monitors and directs the supply and demand of electricity within the virtual network – sending power between neighbours in micro transactions as needed.
This optimises usage and minimises wastage, lowering participants' utility bills.
Bamidele Adebisi, Professor in Intelligent Infrastructure Systems, is working with start-up QBots Energy to implement and analyse two demonstrator models: one involving about 40 SMEs in Manchester city centre and the other being Manchester Metropolitan's Birley Campus, which can be
isolated from the grid.
Professor Adebisi said: "People are beginning to install renewable energy devices, such as solar panels, on their roofs but these are not efficient and effective on their own. This project will provide necessary tools for businesses to become carbon neutral by making it easier for them to adopt renewable generation, battery storage and demand management technologies.
"Our role as a university is to bring the research and innovation. We are bringing the fundamental science into real life.
"ENERGY-IQ will deliver savings on energy bills by minimising usage when cost of energy is high and maximising when costs go negative, plus generate additional income by trading energy back to the grid."
ENERGY-IQ received £2.2 million funding from the Department of Business, Energy and Industrial Strategy.