News |
Thursday, 5th March 2020
Manchester Metropolitan first-ever university to win AAC award for apprenticeships
University recognised for its commitment to employers and apprentices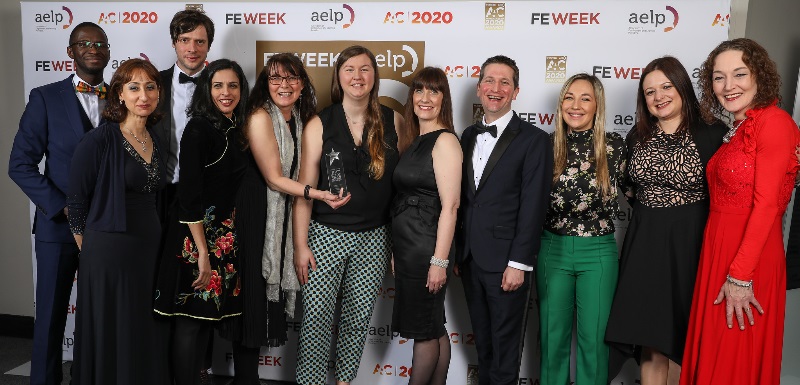 Manchester Metropolitan University has been recognised for its excellent delivery of degree apprenticeships in the digital sector at the national AAC Apprenticeship Awards 2020.
The University picked up the 'Digital Apprenticeship Provider of the Year' award, becoming the first-ever university to win at the AAC Awards.
The award recognises Manchester Metropolitan's high level of engagement with employers and apprentices as well as its sustained commitment to working with employers in the digital sector – particularly in the way the provision from the University adapts to meet employer requirements.
Jonathan Lawson, Director of Strategic Partnerships, Business and Public Engagement at Manchester Metropolitan University, said: "It is wonderful to receive this national accolade, which also recognises our employer partners who are using degree apprenticeships to invest in the workforce. Degree apprenticeships are a great British invention that countries such as India, China, Australia, New Zealand and Canada are now looking to replicate.
"Employers have commented to us that because they have struggled to find the digital skills they need in the UK workforce they have had to outsource overseas. However, thanks to degree apprenticeships, they are now able to employ and train local people in the provision of digital expertise and great careers."
Pioneering collaborations
Manchester Metropolitan's digital degree apprenticeships – which include the Digital & Technology Solutions, Digital & Technology Solutions Masters, Digital Marketer and the new Digital User Experience (UX) programmes – see apprentices work full-time at one of the country's leading employers or innovative SMEs, while studying towards a fully accredited degree with the University.
Professor Malcolm Press, Vice-Chancellor of Manchester Metropolitan University, said: "This recognition is a reflection of the vision and ambition of colleagues who design and deliver our apprenticeships, the quality of the teaching and learning environment for our apprentices and the collaborative way in which we engage with employer partners. I would like to congratulate all involved."
In 2019, Manchester Metropolitan's first Digital & Technology Solutions cohort to graduate all achieved a first or 2:1 degree classification, the two highest awards. In total, 100% of the apprentices felt that the programme had helped them to progress in work and believe they made the right choice by undertaking a degree apprenticeship.
Amy Hawkyard, a Digital & Technology Solutions Degree Apprentice at Manchester Metropolitan and AstraZeneca, said: "The apprenticeship has made a massive difference to me. So much of the theory I learnt at university I have been able to implement at work.
"I didn't have confidence in myself to be able to complete a degree but now I'm four years down the line and graduating with a first class degree."
Bright futures
Staff and apprentices from Manchester Metropolitan joined more than 500 of their peers and sector leaders to find out the results of the AAC Apprenticeship Awards at a ceremony in Birmingham on Tuesday, March 3.
The awards, which are run by FE Week and the Association of Employment and Learning Providers (AELP), saw 44 organisations and individuals from colleges, training providers and employers shortlisted in 22 categories.
Gillian Keegan, the newly appointed Minister for Apprenticeships and Skills, and Jennifer Coupland, Chief Executive of the Institute for Apprenticeships and Technical Education, addressed the audience ahead of the award presentations.
Mark Dawe, AELP chief executive, said: "We've had another fabulous evening celebrating all that is best about apprenticeships and the hard working people who offer bright futures to learners who embark on our flagship skills programmes.
"Congratulations to a great set of winners and it's really pleasing that Gillian Keegan has been here with us to hear about these wonderful success stories."
More information on Manchester Metropolitan's digital degree apprenticeships can be found on online.