News |
Tuesday, 18th July 2017
University historians recount 'hellish' charity trek along Hadrian's Wall
Group's fundraising coast-to-coast walk was grueling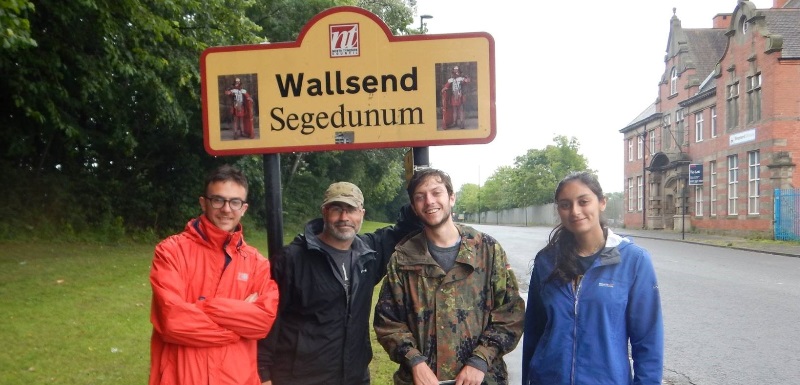 Dr Jason Crowley, Senior Lecturer in Ancient Greek History, followed Hadrian's Wall from Cumbria to Northumberland with four students including Davide Piccirillo, Rob Jones and Saariah Qureshi, who are all graduating with a History degree this summer.
They aimed to raise £500 in sponsorship for to the Wood Street Mission, a children's charity based in the Spinningfields area of Manchester.
Here Dr Crowley recalls their week-long adventure:
It seemed pretty easy on paper. One lecturer. Four students. 165 kilometres. Five days. 40lbs of kit. All it took, however, was one day to shatter that illusion.
To cover the ground, we needed to march about 33 kilometres per day. And we knew from previous experience that, under such a load, the best we could hope for was four kilometres per hour. Add in an hour for lunch and a few much needed rests, and that would mean an easy day was 12 hours. Not, of course, that there were any easy days.
Once we started, we realised that parts of the trail had been flooded, eroded away or covered by landslips – and that meant extra kilometres. We also had to climb and descend nearly 1600 metres – over the height of Ben Nevis, the UK's highest peak. Even more annoyingly, we had to divert from the trail to rest places we could find food on the march – the trail wasn't through a wilderness, but at times it was pretty isolated, and if we missed a re-supply point, we marched on empty stomachs.
And we hadn't anticipated what marching hour after hour after hour would do to us. Our deterioration was uneven, but in the end, we all developed friction rubs, rucksack sores, bad backs, sore knees and shredded feet. By the end of the march, we had used every single piece of our large medkit – evening and morning routines centred around re-organising kit, and dressing, redressing and lamenting over injuries.
This is the reality of a long distance trek. Anyone can do one hard day. Not many, however, can do it again and again and again, despite worsening injuries and progressive exhaustion.
By day two we were convinced the task we'd set ourselves was impossible. We planned, we streamlined the route where possible and we marched on. Day three very nearly produced heat casualties. We planned again, we were falling behind schedule, and we started thinking about different options – we had to finish, we'd raised so much for the Wood Street Mission – we simply couldn't fail, but also, we didn't know how to succeed.
Day four we started to catch up, and we also had a plan. We'd march an extra day, and on day five, we'd march into the night.
At the end of day five, as we marched through the centre of Newcastle, drawing curious stares from dressed up people on nights out, we were moving at less than two kilometres an hour, but we had made it. We were only 15 kilometres from the east coast.
That night, we dressed our injuries, ate and drank, and prepared for the final push. That would be a march unlike anything we'd done before, because we were leaving our rucksacks at the hotel. It felt wonderful to march without carrying a huge load, and at the start of the day we moved fast, but after 12 kilometres were moving very slowly – we were, quite simply, worn out. The sight, however, of the beach at Tynemouth, and the waves, kept us moving, and soon we were marching on sand, and finally, touching the sea – we had the energy for hugs and photographs, we recreated the iconic scene from Xenophon's Anabasis ("The Sea! the Sea!") as well as that scenes famous re-interpretation in the classic film, The Warriors ("When we see the ocean, we figure we're home…").
And then we went for a beer and a meal in an auspiciously named pub – The Salutation. We were all euphoric, but it was a euphoria unexpectedly tinged with sadness. The great adventure was over. We knew, however, that the Fellowship of the Wall would last forever…