News |
Monday, 21st August 2017
Boost to patients, students and staff as University collaborates with digital health company
Memorandum of Understanding signed with Dutch firm TelePsy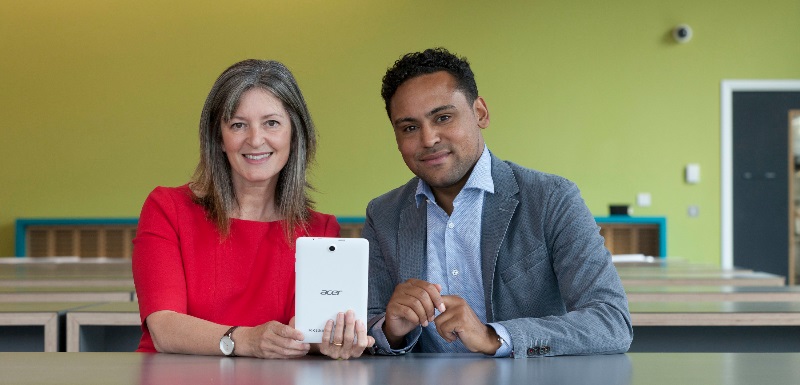 Improvements in the diagnosis and treatment of mental health problems are envisaged after Manchester Metropolitan University and Dutch digital health company TelePsy agreed to collaborate.
The University signed a Memorandum of Understanding (MoU) on Thursday August 10 with TelePsy, which offers a secure and user-friendly e-platform with various tools for the diagnosis, evaluation and treatment of psychological problems and disorders.
Benefits student and staff
Professor Alison Chambers, Pro-Vice-Chancellor of the Faculty of Health, Psychology and Social Care at Manchester Metropolitan University, said: "The University is delighted to have signed a Memorandum of Understanding (MoU) with TelePsy as part of its expansion into the UK market with a new Manchester office.
"The partnership allows for collaboration in several areas that will benefit our students and teaching staff, strengthen and promote our research capabilities and – utilising our commercial consultancy and research expertise - assist TelePsy's development of psychological services in the domestic market.
"It provides graduate employment opportunities: for instance, a job vacancy for a trainee psychologist has already been delegated to TALENTmatch, the University's in-house recruitment service that matches small and medium-sized enterprises with our skilled graduates.
"Furthermore, the MoU offers scope to conduct collaborative research within the network of TelePsy's other existing university partnerships across Europe in order to leverage more funding from the EU.
"And we will work with our partners such as Pennine Care NHS Foundation Trust to support the implementation of innovation within the NHS to improve patient outcomes."
Expansion into UK market
The MoU comes after the company, which is headquartered in Maastricht in The Netherlands, sought to expand into the UK market.
It was persuaded by MIDAS, Manchester's inward investment agency, to locate its new UK office at the Manchester Science Park, close to the University in the Corridor Manchester region of the city.
Jaime Essed, International Manager at TelePsy, said: "We are extremely excited and proud with our collaboration with Manchester Metropolitan University.
"We are looking forward to jointly develop great blended interventions – a combination of online and face-to-face therapy – on our platform that meet the needs of service users and care givers."