News |
Monday, 19th March 2018
Team Orange get chance of a lifetime to meet Sir Mo Farah
Manchester Metropolitan staff and students get some top training tips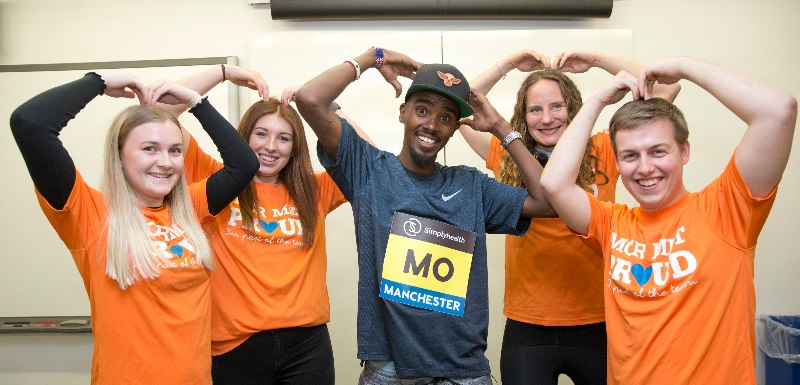 With only a week remaining for staff members, students and alumni to sign up to the Great Manchester Run, lucky Team Orange members got to meet four-time Olympic gold medallist Sir Mo Farah.
The quartet - Rebecca, Angelique, Hollie and Bradley - prepared for the May's 10k with some top training tips from the respected champion distance athlete and inventor of the Mo-bot celebration.
Mo showed he was #McrMetProud as he joined Team Orange for selfies and he wants as many Manchester Metropolitan staff members, students and alumni to "Sign up today and get cracking" by joining Team Orange.
Rebecca and Angelique shared with colleagues what it was like meeting one of the most successful British athletes of all time.
Rebecca said: "We were all quite nervous before he arrived – I was really intrigued to see how tall he was and how he looked – he was smaller than I had imagined but exactly how he looks on TV.
"His main advice was to just go for it and have fun and more than anything, enjoy it, don't take it too seriously and be proud to be part of the Manchester Metropolitan identity."
Angelique said: "Mo let us in on his training plan – he said that he has a light run in the morning and a harder training session in the afternoon.
"He said by doing two sets it allows more quality and effort than one continuous session – he also takes his warm down and stretching routines seriously.
"It was such a fabulous day and I can't wait for the race – so many people are going to be able to say they ran in a race with Mo Farah and that's such a good opportunity.
"It's going to be incredible and the atmosphere is going to be nuts."
This is the last week for staff members, students and alumni to sign up to the Great Manchester Run on Sunday, May 20, so don't miss your opportunity to be at the starting line with Mo and sign up today!