News |
Friday, 8th June 2018
Lord Mandelson hails University's agility and risk-taking in landmark higher education speech
University Chancellor called for world-class technical education and research in the post-Brexit era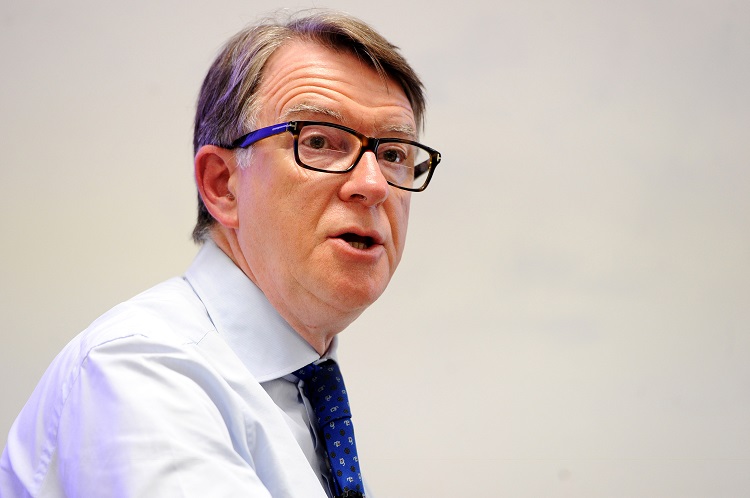 Chancellor Lord Mandelson has championed Manchester Metropolitan as a shining example of a university reinventing itself to meet the demands of the 21st century.
Lord Mandelson hailed the University's degree apprenticeships and forthcoming Screen School project in a speech to the Higher Education Policy Institute conference where he laid out his vision for a post-Brexit university system.
Britain needs more high quality technical education, Lord Mandelson said, but dismissed a "false choice between apprenticeships and higher education", calling for both to be properly funded.
Instead, the former higher education secretary called on universities to "raise standards all round and cater for different needs and styles in learning, always adapting to new challenges and opportunities of the sort we face now".
'Stakes are high'
Lord Mandelson said: "Manchester Met's roots lay in the first industrial revolution where the original Mechanics Institute was founded on the principles of science improving art and where the School of Art and Design gave life and colour to the burgeoning textiles industry, bringing the verve of fashion to cotton's raw industrial power. The university's vibrant fashion department is doing this still in a completely different era.
"But a project we are very excited about now is for a new Screen School – a school of digital arts – to support burgeoning creative and digital industries in the 21st century.
"To do this a university has to have an appetite for risk, to be bold, in this case to take the skills of technology – coding, rendering, 3D modelling – and apply them to the basics of storytelling.
"The prize was big in the industrial revolution. The stakes are far higher now."
Best in the world
In the speech, Lord Mandelson also defended the current university funding model, warning against a return to an era of universities being largely funded out of taxation and therefore leading to a smaller university sector, which would "kill the aspirations of very many students who dream of going to university but not beneath the 'dreaming spires'".
Britain's world-class university research will be central to boosting the UK economy after it leaves the European Union, he argued.
"We musn't close ranks against change but apply our minds instead to the further changes that are needed so that we can continue to provide amongst the best research, the best teaching, the finest qualifications, the best student experience of anywhere in the world," he concluded.