News |
Tuesday, 5th July 2011
A novel way of teaching science
Professor's science book club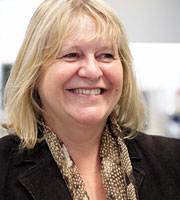 A PROFESSOR who makes microbiology come alive through the pages of popular novels has won a national award for the public understanding of science.
Joanna Verran was voted communicator of the year by the influential Society for Applied Microbiology at its annual summer conference in Dublin (4 – 7 July).
A Professor of Medical Microbiology at Manchester Metropolitan University, Joanna uses popular fiction like Dracula, the Andromeda Strain and the Hot Zone (latterly hit film Outbreak) to convey facts and theories about micro-organisms.
She has even formed a book club - The Bad Bugs Book Club – to read and discuss the science behind the stories.
Art and fiction
Professor Verran who also uses art to teach her students about micro-organisms is recognised as a true innovator in microbiology education.
Dr Lucy Harper, communications manager at the Society for Applied Microbiology said: "Professor Verran is a truly engaging speaker. Her down-to-earth attitude, warmth and accessibility allow her to easily communicate sometimes complex information effectively to a lay audience."
Joanna is a regular contributor to TV news and features programs including BBC's The One Show, and she has been quoted in many newspaper articles about the dangers of bugs and disease in modern life . She has worked at public engagement events across the UK, including SfAM's own "Outbreak: engaging the public in infectious disease" for the British Science Festival.
She has worked at Manchester Science Festival, Cheltenham Science Festival, and most recently talked about her work at the Federation of European Microbiology Societies Congress in Geneva.
Passionate learners
Professor Verran said: "I love microbiology, and have always tried to encourage similar passion and interest amongst lots of different audiences, so it is great to have received this recognition for my work.
"In my opinion, applied microbiology is a subject of importance and fascination to everyone."
Professor Verran has published over 100 scientific papers and contributed to several books. She receives her award at the SfAM Summer Conference dinner at the Jameson Distillery, Dublin, on 6 July 2011.