News |
Monday, 2nd July 2012
Hannah is rising star of manufacturing
Bentley engineer, 23, hails university experience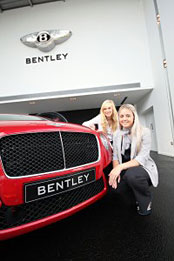 ENGINEERING student Hannah Proffitt has been named among the 30 young rising stars of the manufacturing world by Business Minister Mark Prisk.
The 23-year-old who juggles her studies with her job as a mechanical engineer for Bentley Motors is one of the faces of 'Make it in Great Britain' - a campaign to transform the image of modern manufacturing.
The '30 Under 30' are a selection of high flying young people who have already carved careers in the manufacturing sector and are an example to all those aspiring to do the same.
They come from all walks of manufacturing life and were selected by a panel of expert judges for demonstrating passion, enthusiasm and commitment to their careers.
Mechanical Engineering course
Hannah, who studies on the BENG (Hons) Mechanical Engineering, and is from Shavington, Crewe, said: "To be selected as one of the top 30 engineers in the UK under 30 is amazing.
"A big thank you to everyone at MMU for their teaching and guidance over the last two years. I wouldn't be where I am without help from the University."
Hannah joined Bentley as an apprentice and has excelled in her careers as a mechanical engineer
Bosses said she played a key role in Bentley's product development, working in the Chassis Engineering team where she is responsible for the delivery of front and rear suspension uprights.
Manufacturing careers
Business Minister Mark Prisk said: "There's a huge range of different job opportunities in modern manufacturing, in design, in engineering and in production.
"We need more talented, enthusiastic people to fill these roles, and we hope that the 30 Under 30 will inspire the next generation to consider a career in manufacturing."
Hannah and her colleague Charlotte Watling, who was also in the 30, will now act as ambassadors for the campaign, holding a special role in engaging with other young people, to ensure that the next generation is aware of the great jobs and careers in the industry.
Christine Gaskell MBE, Bentley's Member of the Board for Personnel said: "Hannah and Charlotte are fantastic ambassadors for both Bentley and the automotive manufacturing sector and I am confident they will raise the profile of our industry in their exciting new role".