News |
Friday, 27th July 2012
Big Society groups on the edge
MMU research shows many community organisations are under threat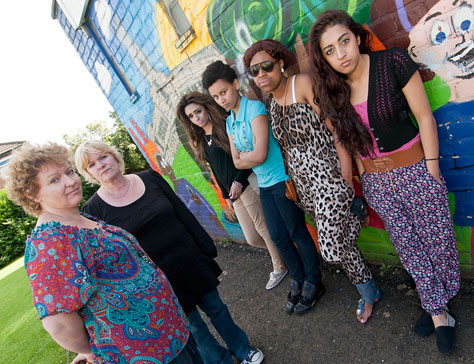 MANY community and voluntary organisations which provide vital services to vulnerable groups are at risk of closure according to researchers at Manchester Metropolitan University.
Despite the Government's 'Big Society' pledges, 79% of these groups said their activities have been affected by funding cuts even though 80% expect demand for services to increase over the next year.
Researchers spoke to 215 groups in the North West of England and found that almost 50% thought that they would be forced to bring their activities to an end within three years.
Of these, 87 were classed as providing a service to vulnerable or at risk groups such as victims of crime, people with mental health problems and young people or women suffering domestic abuse.
Heads above water
JNR8, (pictured), a youth and community organisation based in Manchester, are one group that say it is difficult for them to 'to keep their head above water'.
Project manager Alison Chisholm said: "It's a worrying situation. We have been running for ten years and a lot of the kids round here rely on us.
"If we weren't here they wouldn't have anywhere to go, a lot of the young people around here aren't from affluent backgrounds – they tend not to have any other options."
The group provides workshops, activities, trips and volunteering opportunities to around 130 local young people, something which Alison says is beneficial for the whole community.
Behaviour change
"Being involved with JNR8 can redirect young people who might have otherwise got involved in anti-social behaviour and stop them hanging about the streets and causing problems.
"But the current financial climate means that it's more difficult to get funding and monitoring for outcomes is much more stringent.
"The problem is that organisations like ours influence personal change and can make a huge difference to a young person's future health, education and wellbeing, but these outcomes can not be immediately seen and can be difficult to evidence. The government doesn't always recognise the value of social and personal development."
JNR8's situation is not unique according to the research, which was led by research associate Eve Davidson in MMU's Community Audit and Evaluation Centre.
Fight for survival
The report 'Surviving, thriving or dying' shows that often it is the groups that have been in existence for the longest which are under threat of closure, 62% of groups which had been running more than five years said they expected to end within the next three.
Eve said: "Through this research we are trying to help these groups survive. Factors such as unemployment, discrimination, poverty and disadvantage should be prioritised at a structural level to enable small community groups to act as a support for rather than replacement for essential services."
The report found that as well as more funding opportunities many felt that help finding more volunteers, being part of a local network and more training opportunities might also help them become more resilient.
The research, which is part of the ESRC funded Capacity Building Cluster, Takingpart, has been showing the affect of the changing economic climate and changes in government priorities on communities.
Dr Carol Packham, director of the Community Audit and Evaluation Centre, said: "One of our partners, Communities North West became aware that groups were struggling and wanted to know how best they could be supported.
"The findings show that funding and resourcing is essential for both the groups, and the infrastructure organisations that support their work."
For more information and a copy of the report go tohttp://www.ioe.mmu.ac.uk/caec/docs/5752_ESRC-CAEC%20Project_Summary%20Report.pdf