News |
Friday, 16th November 2012
Students tie the apron strings at Costume Gallery
Designers show off their 1950s looks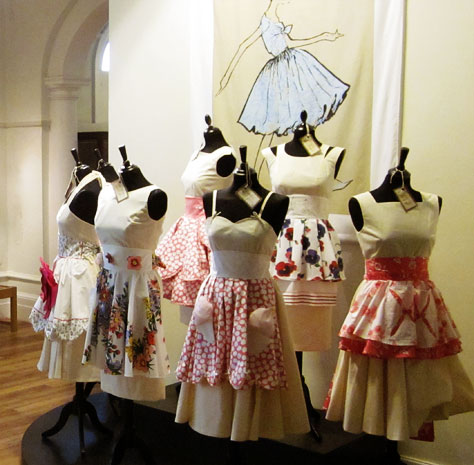 THE latest exhibition at the Gallery of Costume showcases vintage-inspired aprons made by students studying Fashion Materials and Technology at Manchester Metropolitan University.
The students have used printed fabric made by Horrockses, a household name in the 1940s and 50s, famous for making affordable printed cotton day and evening dresses.
The design of the aprons reflects the bold styling of 1950s printed textiles and the familiar contemporary 'New Look' fashion silhouette, as exemplified by the dresses on display opposite the aprons. One of these, the ink spot print evening dress, features a Horrockses textile designed in 1952 by Joyce Badrocke.
This is the latest in a series of collaborative projects between by the Gallery of Costume and MMU, and the first to involve the Department of Clothing Design and Technology, which is part of the Hollings Faculty.
Historic
The project, which was the brainchild of lecturers Gill Newsome and Caroline Herz, is part of the teaching at MMU to develop students' understanding of materials and technology, specifically as they influence clothing manufacturing and the fashion industry.
Caroline said: "We are all thrilled about this joint project, which gave the students a great opportunity to work with this historic fabric company. To see their work on display in the surroundings of Platt Hall really is very special."
Fabric was donated by Sarah Williams at Horrockses and development workshops were funded by Stories of the World and the Cultural Olympiad.
The exhibition runs until after Christmas. Admission is free.