News |
Tuesday, 26th March 2013
Architect attends Hollings celebrations
Plus Modernists unveil Toastrack finds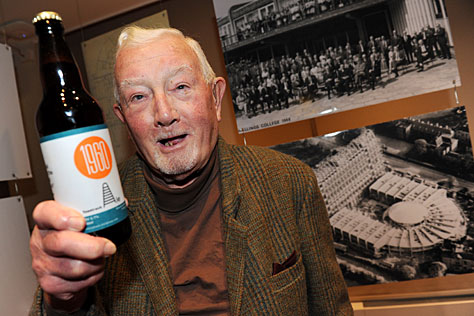 ARCHITECT Derek Hill had the chance to celebrate one of his most famous creations at a special event held at Hollings.
As part of the City Architect's office in the 1950s, when Leonard C Howett dreamed up the idea for the building known as the Toastrack, it was Derek's job to make the architectural drawings.
He attended the special event at the Toastrack's Garden Restaurant on Friday alongside staff and students as part of the ongoing celebration of the unusual building before the Hollings faculty moves to All Saints in September.
Guests enjoyed a special "1960" ale brewed for the event by Moorhouse's, "Toastrack loaves" provided by Warburtons, and an elaborate cake featuring a replica of the famous building.
Human emotions
Haleh Moravej, project manager, said: "The event was a great way to celebrate the relocation of Hollings Faculty. As Winston Churchill said: 'We shape our buildings; thereafter they shape us.'
"Having the architect of the building attending allowed us to hear all the human emotions and creativity that was taken from brain to paper to building. Having him there to celebrate the relocation was the highlight of the night as it bought the narrative of Hollings full circle to where it all started."
The event also showcased the artefacts found by the Manchester Modernist Society, who have held a year-long residency at the Toastrack, including plans loaned by Derek Hill.
Nicholas James from the society said: "The Toastrack has to rank as Manchester's most unusual and audacious building, and for Manchester Modernist Society it is also a much-loved, beautiful and irreplaceable one.
Abseil postponed
Unfortunately, high winds meant that an abseil down the building to raise money for charity had to be postponed.
The event will now take place on 15 April, and anyone wishing to take part can contact events management student Francesca Wright on virtue-events@live.co.uk or call 07814 303318.
Updates from the Modernists' residency can be found on their blog at http://thetoastrack.wordpress.com