News |
Tuesday, 8th July 2014
Digital Innovation throws open its doors to students
Hub's new home has had £1 million makeover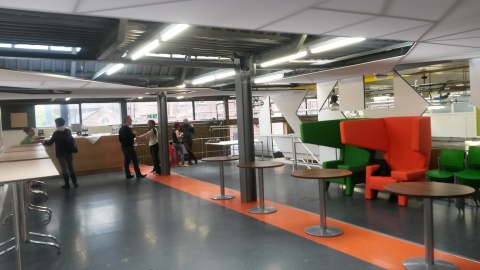 BUDDING games designers, media stars and fashion designers will have the chance to work together thanks to the launch of MMU's new Digital Innovation studios.
Digital Innovation has been given a permanent home in "The Shed", on Chester Street, following a £1 million makeover for the space.
Situated next door to Innospace, the University's small business incubator, Digital Innovation will give a mix of undergraduate and postgraduate students from different faculties the opportunity to work together on projects, hold events and share ideas.
With Manchester positioning itself as a powerful player in the digital sector, the new hub will be well positioned to cement MMU's reputation as a leader in the field.
Exciting new chapter
Paul Bason, Director of Digital Innovation, said: "This is the start of an exciting chapter for MMU and we hope for Manchester as well. Digital Innovation will provide a new cross-disciplinary space for collaboration and innovation for those interested in using technology in exciting ways.
"MMU has a rich history of research and innovation and with this new space we have the opportunity to become thought leaders in the digital sector."
Professor Jean-Noel Ezingeard, Deputy Vice-Chancellor for Strategic Planning and Research agrees that the space is an exciting chance to further MMU's already strong academic position.
He said: "By encouraging collaboration and communication between faculties Digital Innovation aims to push forward MMU's research agenda. It will allow us to showcase the diverse disciplines on offer at the University as well as pushing innovative new boundaries of research."
Crucial skills
The initiative will also allow MMU students develop crucial skills needed in today's competitive job market.
Dr Myszka Guzkowska, Deputy Vice-Chancellor for Student Success, said: "With the creative industries now worth £70 billion to the UK economy this is the time to recognise that a whole new range of digital and entrepreneurial skills are needed if you are looking for a job or starting a business.
"Hopefully, activities under the Digital Innovation umbrella will stimulate a whole range of new opportunities learning and teaching, as well as new experiences and collaborations for staff and students interested in utilising the power of new technologies."
MMU staff have the opportunity to book on to tours of the new space by clicking here: http://www.eventbrite.co.uk/o/digital-innovation-6179925769?s=25912467.