News |
Friday, 6th February 2015
MetMUnch "changes students' lives"
Team collect international Green Gown award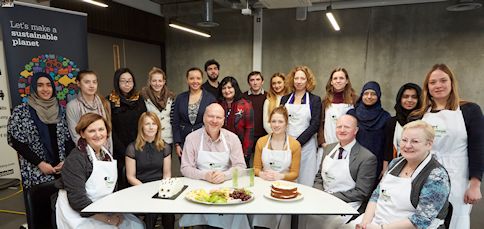 THE audience at the awards ceremony where MMU's MetMUnch team received their Green Gown trophy heard how the project has changed students' lives.
One student spoke about how he was on the verge of dropping out of University before he joined the project, but is now "winning awards, with a CV full of experience and a Facebook filled with memories."
Another, Abdullah Al Ali, said: "I entered MetMUnch accidentally - and thank God I did! I've gained leadership and communication skills, self-confidence and what I like most is the friendly, family atmosphere."
The trophy was presented by Iain Patton, CEO of the Environmental Association of Universities and Colleges and Angela James, BT Account Director for North West Universities.
"So inspiring"
MetMUnch won the national award for student engagement in a large institution, and then went on to win the international prize.
The judges said it was "a highly innovative community-based project that has adapted well to new opportunities" and praised its "strong student engagement activities run off a small budget."
Iain said: "I want to bottle what you've got, it's so inspiring. The university has created that space for you to do this - you've got something really interesting at Manchester Metropolitan and I really want to commend it.
"For the international award there were more than a hundred judges but choosing the winner was the easiest decision to make because what you've got here has gone viral, you've got the space here to be creative and it's really inspiring."
"Fantastic example"
Deputy Vice-Chancellor Myszka Guzkowsa said: "It's important to the university because actually this is the strategic direction we want to go in - having live projects working with the community where students get the skills they need. So thank you for being a fantastic example as we try to spread that ethos out across the university."
Head of Environmental Sustainability John Hindley said: "This is a really exciting time for us, and we should use it as a springboard to do even better."
Haleh Moravej, who spearheads the project, added: ""We are really grateful to our technical services staff at Hollings for supporting us in the last three years."