News |
Thursday, 7th December 2017
Social Work student wins national award
Louise Watson named Student Social Worker of the Year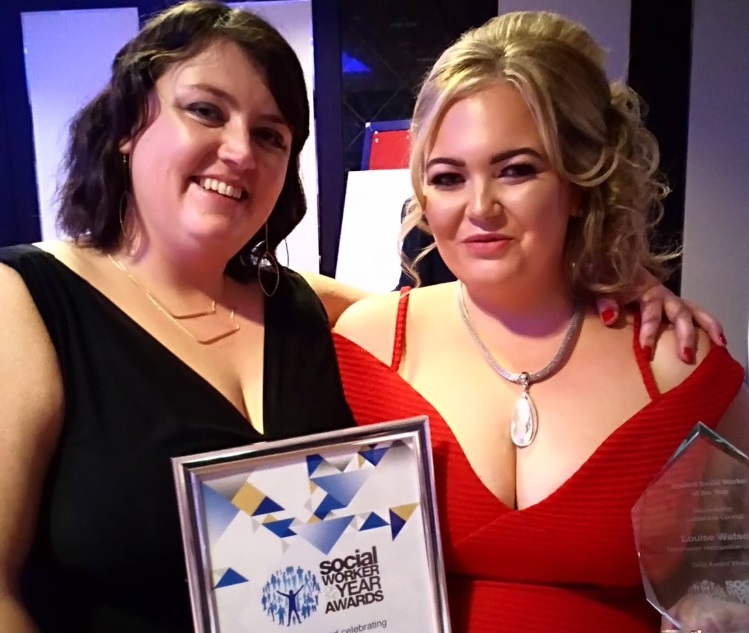 A RECENT graduate from Manchester Metropolitan University has been named Student Social Worker of the Year thanks to her sensitivity and commitment to helping others.
Louise Watson was one of 17 individuals and teams who scooped gold at this year's Social Worker of the Year Awards, which celebrate the achievements of practitioners in both children's and adult services.
During her MA Social Work course, Louise's academic work and dedication earned praise from University mentors and tutors.
Now, Louise has impressed the panel of judges including Deputy Editor of Social Work Education, Helen Scholar, who said: "This entry highlighted Louise's many strengths, in particular her ability to build relationships and inspire the confidence of young people in distressing circumstances. The nomination also demonstrated her developing professional confidence and leadership potential."
Humbling
Louise described her experience and hearing what other professionals had to say about her as "humbling". She said: "Winning the award was such a great honour after a difficult two years balancing full time study, my own family commitments and working with my families whilst on placement and in my job.
"Hearing how my young people reacted when I told them I had won was amazing, and alongside my own child's reaction, has got to be the best part about winning the award. I feel honoured to be in a position which allows me to do this as a job as I love working with children, young people and families and them allowing me to be a part of their journeys."
During her postgraduate course, Louise also worked in support roles at Stockport council children's services and since completing her degree, she has secured a job in Stockport's domestic abuse and child sexual exploitation team.
Dr Helen Mayall, Senior Lecturer Social Work, said: "Louise impressed from the start of the course. She has a clear commitment to working alongside young people and their families and strives to do her very best for them. Louise contributed a great deal to her course and was instrumental in working with one of our senior staff to develop a leadership programme for students in her group."
Committed
Ffion Evans, Senior Lecturer in Social Work, said: "In the classroom, Louise demonstrated that she understood the diverse experiences of families, and she kept this in mind within her practice. Louise also showed great leadership qualities amongst her peers, often clarifying and summarising learning generated in and outside the classroom."
Caroline Leah, Senior Lecturer in Social Work, said: "Louise was an extremely committed social work student and I had the pleasure of supervising for her dissertation that focused on 'The role of the corporate parent for care leavers moving from dependency to independence'. It was great to see Louise's passion and pride for social work practice, social justice, equality and research shine through in the project."
The Social Worker of the Year Awards 2017 took place on Friday 24 November 2017. The evening was an exclusive event for finalists, sponsors and judges and was attended by over 400 practitioners and high profile figures from the profession.
Read more about Louise's work here.