News |
Monday, 17th July 2017
University hosts first Graduate Skills for the Northern Economy conference
Guest speakers outlined challenges and opportunities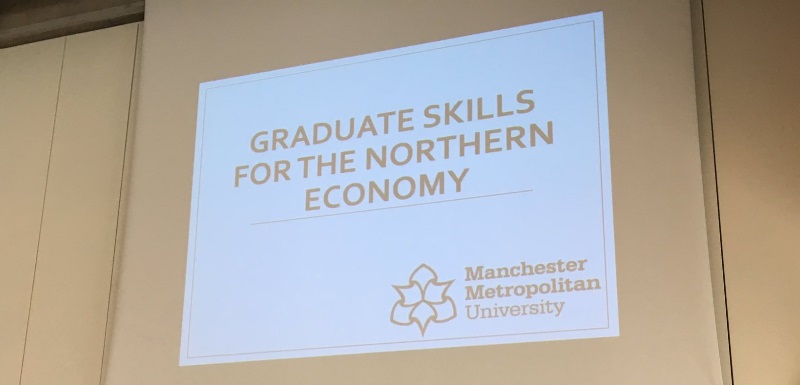 IMPROVING links between universities and companies offering work placements is the key to filling the professional skills gap in the North of England, a conference heard.
The first Graduate Skills for the Northern Economy conference was held at Manchester Metropolitan University on Wednesday, July 12, for academics from the University and other higher education institutions in the region, along with employers.
A number of speakers considered themes such as the state of the employment landscape in Northern cities and what universities can do better to help their students into work post-degree and thereby make Manchester more prosperous.
First Northern conference
Mark Diggle, Director of Careers and Employability at Manchester Metropolitan University, said: "I have been to a good number of events like this in London and what really struck me is that we really ought to bring some of those speakers up to the university and invite our academics and give them a chance to hear and discuss and the issues.
"We have had a very strong turnout from the university and from other universities in the region.
"It was an ambitious agenda but it centred around the pattern of graduate recruitment, the impact of the Apprenticeship Levy and how it is going to affect the choices of young people, and the areas where there are shortages and employers are reporting they are not able to fill the all of the graduate vacancies they have.
"The key message is that there is a lot of graduate talent in the North and if there is an issue around skills gaps there is a need to improve the connections, and build bridges, between the university and employers to support growth."
Third spot
Statistics shared at the event show Manchester retained in 2016 third spot nationally in the number of graduates securing work – behind only Westminster and Birmingham – but ahead of the City of London, Leeds and Glasgow.
Martin Edmondson, chief executive and founder of Gradcore, said: "I was talking about graduate recruitment in the North and how 'place' is becoming a very important issue and how universities need to think globally and locally and need to think hard about their relationship with the local community and how best to connect graduates with local jobs.
"It's important for universities in terms of TEF and HESA's Destinations of Leavers from Higher Education (DLHE) survey and for the good of the community: getting graduates into graduate jobs improves productivity.
"I talked about what we have been doing in Sheffield with a project called RISE Sheffield, matching graduates who want to stay in the city with SMEs.
"It's about looking for more ideas like that."
Pilot partner
Dr Joe Marshall, Chief Operating Officer and Director of Strategy at the National Centre for Universities and Business, spoke about BrandU, the Tinder-style smartphone app linking students with work placements that allows them to register interest or reject offers with a swipe of the screen.
Manchester Metropolitan University, whose students took part in focus groups during the development phase of the software, is likely to be one of the 10 pilot partners when the app launches next year.
Dr Marshall said afterwards: "It's not enough to have read your degree in the traditional sense. In a whole raft of different areas, the university experience can expose you to different type of work, whether professional or voluntary.
"The idea is that we're trying to make it as easy as possible for students to find, secure and gain the benefits from work experience while they are doing their studies at university."
Better collaboration
Stephen Isherwood, Chief Executive of Association of Graduate Recruiters, said: "We need to get better collaboration between employers and higher education and we see the Apprentice Levy being a great opportunity for that to happen."