News |
Thursday, 20th July 2017
National Spice summit held at Manchester Metropolitan
Dr Rob Ralphs organised the event attended by Mayor of Greater Manchester Andy Burnham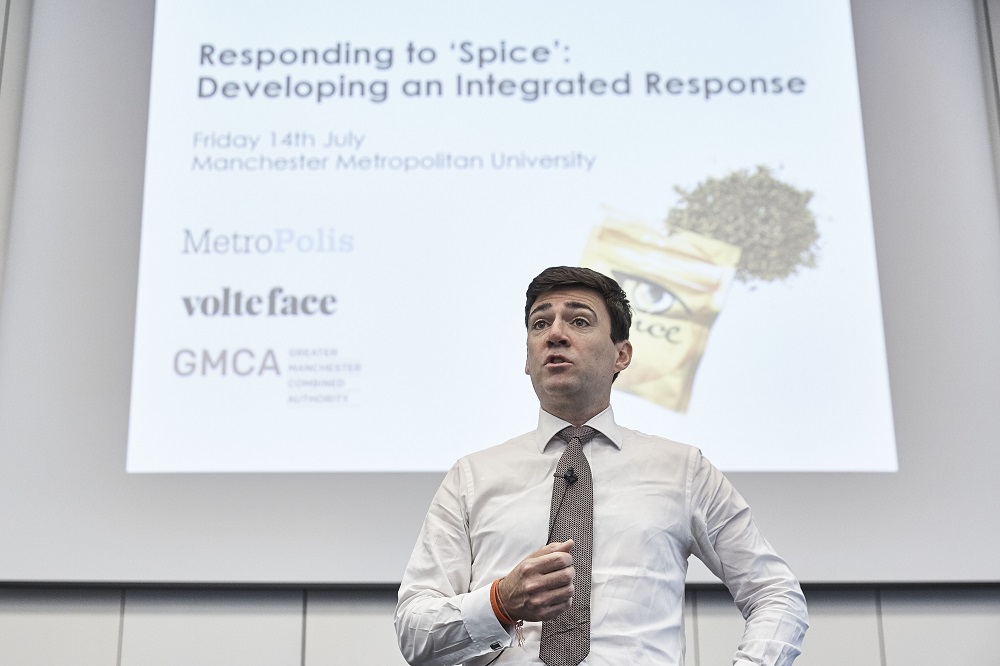 A summit to develop a national strategy for tackling the use of Spice was held at Manchester Metropolitan University in July.
Dr Rob Ralphs, Reader in Criminology, and leading expert on the use of formerly legal highs, convened the event in conjunction with a wide range of partners.
Responding to Spice: Developing an integrated response brought together key national representatives from the NHS, prisons, probation, mental health and homelessness services to discuss how to address the problem and its effect on users, frontline services and in prisons and city centres.
The event attracted local and national media attention, and Mayor of Greater Manchester Andy Burnham delivered the opening address.
Dr Ralphs was invited later in the month to deliver a presentation on his research into the use of New Psychoactive Substances in Manchester to the city council's Health Scrutiny Committee. His work, and that of Dr Oliver Sutcliffe, Senior Lecturer in Psychopharmaceutical Chemistry, have been crucial in understanding the use of formerly legal highs.
A second paper, looking at the impact of the 2016 Psychoactive Substances Act on use of these drugs in the city, is due to be published later this year.
The event was organised by Manchester Metropolitan University's policy think tank MetroPolis and drug policy think tank Volteface as part of the Manchester Metropolitan's Chancellor's Fellowship, with the support, consultation and participation of Manchester City Council's Community Safety Partnership and Public Health Team; Greater Manchester Combined Authority Public Service Reform Team and the Greater Manchester Mayor's office.
Michael Taylor, External Affairs Advisor, said: "I was delighted to welcome Andy Burnham to our University to open the MetroPolis and Volteface summit. When we established MetroPolis it was always our intention to project our world-class research into places where those ideas and that evidence can lead to action for positive change.
"This shows Manchester Met at our best. The hard science that Oliver Sutcliffe provides, to support the social scientific rigour of Rob Ralphs is a powerful combination indeed.
"To hear the Mayor commit to implement the recommendations from the conference reflects not only the urgency of this acute and complex social problem before us, but the possibilities of what we can achieve if we direct our efforts in a smart way."