Vice-Chancellor delivers keynote speech at University Vocational Awards Council Conference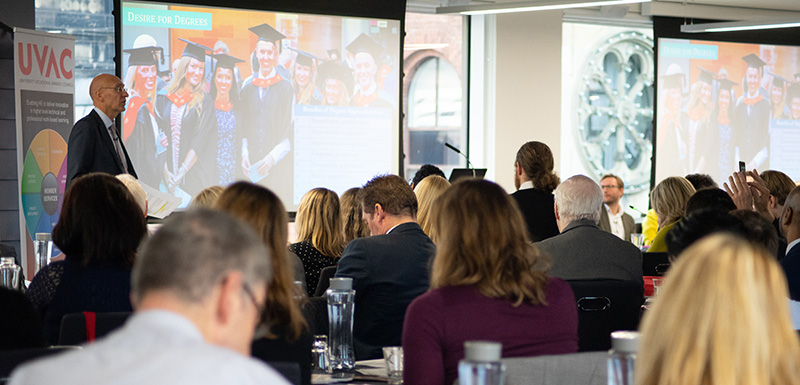 Employer-focused programmes addressing skills shortages in UK industries will provide a sustainable future for degree apprenticeships, according to Manchester Metropolitan University's Vice-Chancellor, Professor Malcolm Press.
Professor Press outlined his thoughts on the future of technical, vocational and professional training during a keynote speech at the annual University Vocational Awards Council (UVAC) Conference in Manchester.
The conference, entitled "How to Successfully Deliver Degree Apprenticeships and Vocational Education", was attended by more than 150 delegates from the higher education sector who debated key themes including apprenticeship pedagogy, innovation in delivery and assessment, and online and distance learning.
Working with employers
Delivering his keynote speech, Professor Press said: "Universities have a key role to play in responding to skills shortages and providing the skills that are needed for business and the economy.
"At Manchester Metropolitan, we have always worked with employers and place a great deal of importance in building these relationships. We now have employer partnerships with more than 200 employers on our apprenticeship programmes alone. This helps us to develop and refine new programmes addressing specific employer needs.
"Degree apprenticeships offer a new route for those who want to start working and living independently after school and college to still achieve a degree and not be disadvantaged later in their career."
Developing apprenticeships
UVAC is an expert body in policy and operational aspects of degree and higher-level apprenticeships. The Council currently has over 60 Higher Education Institution members and produces the academic journal Higher Education, Skills and Work-based Learning.
In addition to the Vice-Chancellor's speech, academics from the University hosted a breakout session to examine collaboration with businesses in the development of degree apprenticeships.
Led by Dr Paula Turner, Head of Management Degree Apprenticeships, and Dr Dane Anderton, Director of the MBA Degree Apprenticeship at Manchester Metropolitan, the session was based on both academics' experiences of developing apprenticeships in higher education.
Dr Tim Gabriel, Lecturer in Chemical Science, and Dr Ella Cranmer, Researcher in Emerging Technologies and Business Models, also delivered a workshop on the use of virtual and augmented reality for teaching engineering and science apprenticeships.
The workshop explored how augmented reality has the potential to increase student engagement and enhance student-managed learning.
Find out more about degree apprenticeships at Manchester Metropolitan.